Five takeaways from Indiana's loss to Syracuse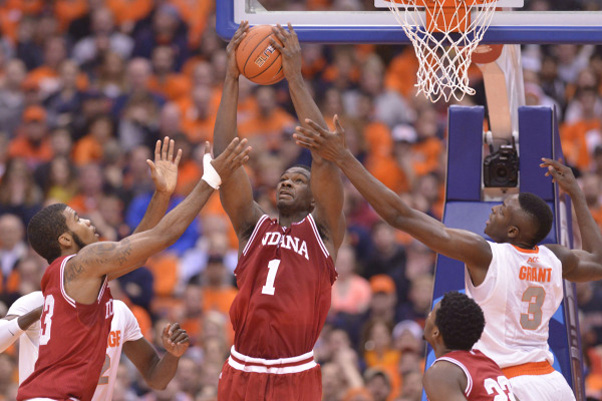 SYRACUSE, N.Y. — Indiana dropped its second game of the season on Tuesday night, 69-52 to Syracuse, in the Big Ten-ACC Challenge at the Carrier Dome.
Here's a look at five takeaways from the loss:
· A lack of leadership on the floor: Tom Crean was direct in his postgame comments regarding IU's play in the second half. Without calling out any player specifically, Crean expressed his disappointment in how the Hoosiers played after trailing by just four at halftime and made it a point to mention that the locker room was too quiet at halftime.
"Our leadership took a step back tonight," Crean said. "And I don't know if it's the inexperience of the team, I don't know if it's the fact that we have a senior like Will (Sheehey) that's in a different role right now. But there's no excuse for it."
Whether his comments were meant to send a message to certain players or is truly symbolic of a gap in leadership remains to be seen, but it was clear that Crean was frustrated with his team's second half execution in a game that was winnable after 20 minutes.
"I'm disgusted with the lack of leadership, and unbelievably disappointed with the lack of fight in the second half," Crean said. "That was one of the poorest displays of fight and communication that I've ever seen."
· IU settled far too often: When IU was at its best offensively on Tuesday night, the Hoosiers were patient and worked the ball around for a good look or entered the ball in the post to Noah Vonleh.
Despite trailing 10-0 to start the game, IU outscored Syracuse 29-23 for the rest of first half and even briefly took a lead on a Yogi Ferrell 3-pointer at the 3:28 mark.
But the Hoosiers ultimately fell into the trap of hoisting too many perimeter shots early in possessions, especially at the onset of the second half.
"Three of our first four shots, I believe, were 3s," Crean said. "We got away from what was working. We let them get momentum."
After a Vonleh field goal at the 17:51 mark, the Hoosiers went all the way until the 5:08 mark before scoring another bucket. On the road against a top five team, that's a recipe for disaster.
· Turnovers again prove costly against the 2-3 zone: Indiana entered Tuesday night's game with a turnover percentage of 20.8. Not exactly a great mark, but also not totally unexpected given the pace the Hoosiers are attempting to play.
Through 20 minutes, Indiana hit its average in turnover percentage (21) and despite poor shooting, that figure along with a solid defensive effort, was a big reason the Hoosiers were still in the game.
The second half, however, was a different story.
Indiana had 10 turnovers and finished the night with a turnover percentage of 27.8, which was nearly identical to the mark in the Sweet 16 loss to the Orange last March.
· Hoosiers get little from Sheehey: It was a mostly unproductive performance for IU's senior on Tuesday night.
In 23 minutes, Sheehey had three points (on 1-of-7 shooting), no rebounds, no assists, a steal and three fouls. On a team with limited offensive firepower, Sheehey is a player many penciled in as someone who could provide reliable production. Through eight games, he's averaging 10.1 points per game, but is shooting just 5-of-23 from behind the 3-point line.
Indiana doesn't need Sheehey to be its leading scorer on a consistent basis, but it does need consistent production in other areas like rebounding and defense.
· Vonleh's play was a bright spot: There were few positives on the IU front from an offensive standpoint, but Vonleh once again proved that he's one of the nation's best freshman.
In 27 minutes, the Haverhill (Mass.) product scored 17 points, grabbed six rebounds and blocked three shots. Vonleh hit 13-of-16 free throws and probably could have taken more attempts had Indiana found him more often.
Filed to: Noah Vonleh, Syracuse Orange, Will Sheehey