Crean on Syracuse: "We can't focus on 'rematch'"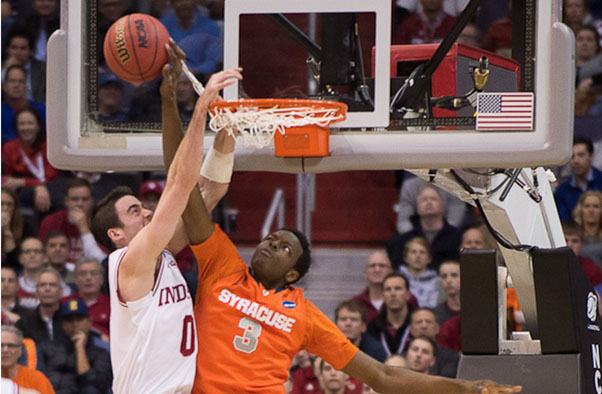 Whatever you call it, Indiana won't think of it as a rematch.
Less than nine months after Syracuse knocked Indiana out of the NCAA tournament in the Sweet 16 in Washington, D.C., the two teams will face each other tonight at the Carrier Dome at 7:15 p.m., as part of the Big Ten/ACC Challenge.
For Indiana senior Will Sheehey, he experienced the loss firsthand. He played 26 minutes that game, as the Hoosiers' national title hopes were dashed in their lowest scoring output of the season, a 61-50 defeat. But even he, on the eve of their matchup against the No. 4 team in the country, hesitated to call it a rematch.
"We're going to look at it just purely as a basketball game, not really at the emotions surrounding it," he said. "Obviously, reliving the end of your season last year is not what you want to do but we're going to dive into the film, and we have been, in looking at specific things within the game. Not necessarily the emotional part, but more like the X's and O's."
Yes, eight months removed from the decisive game, both teams are much different — each losing significant contributors to graduation or the NBA. Indiana lost four of its five starters. Syracuse lost three of its four leading scorers (Brandon Triche, James Southerland, Michael Carter-Williams).
"We can't focus on 'rematch,' " Indiana coach Tom Crean said. "We can focus on the things we learned from the game, but it's two different teams."
Still, much remains the same.
As Crean noted on Monday, the Orange retained their athleticism, their length, their ability to create turnovers and block shots and follow that with getting the ball to the paint and the foul line.
"They've got very good players at every position," he said, "and it seems like they really understand what they're trying to get out of every position right now.
There's one other thing that hasn't changed about Syracuse: its 2-3 zone defense. In March, it forced the Hoosiers' offense into a stall. It forced a season-high 19 turnovers and a season low in field goal percentage (33.3 percent).
So how does Indiana plan to combat that same defense tonight?
Crean said his team will have to find the best shot each possession — whether it be at the beginning, middle or end of the shot clock. His team will have to combat Syracuse's attempts to force Indiana into its desired pace. But most importantly, according to Crean, his team will have to stay aggressive and not have many mental lapses.
"They are very good at getting you to settle," he said. "And I think settling is a recipe for disaster."
In practice, Indiana has worked specifically on its offensive rebounding and its movement. Constant movement will be key, Sheehey said, and that could in turn lead to second-chance points.
After all, Crean pointed out that last season, his team played at times too fast and then didn't attack enough and made too many mistakes against a Syracuse defense that was very hard to score against and limited the Hoosiers to only nine second-chance points.
He said it comes down to the same factors in December 2013, too.
"You just have to go in and do what you do," Crean said. "We've been putting a lot of points on the board, we've been getting very good ball movement and our shot selection continues to improve.
"The bottom line is taking care of the basketball; it really is. We've got to make sure we do enough to get to the foul line. We didn't get to the foul line enough when we played them in D.C."
Eight months later, the Hoosiers continue to talk about how they can apply the corrections to the mistakes they made from that 11-point defeat at the Verizon Center on March 28 to tonight's game in upstate New York.
As much as both teams might have changed, based on what IU believes will be the keys to the game, the basis of the matchup is the same.
Whether Indiana has truly learned will be put to the test in only a matter of hours.
Filed to: Syracuse Orange, Tom Crean, Will Sheehey