What to Expect: Syracuse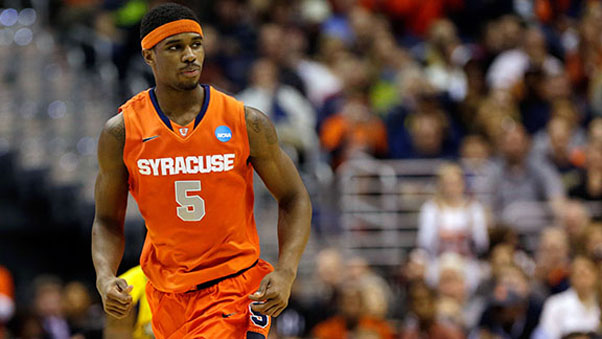 In a rematch of last year's East Regional semifinal, Indiana travels to Syracuse on Tuesday night for the Big Ten-ACC Challenge. Syracuse (7-0) is coming off wins over Minnesota, California and Baylor in the Maui Invitational.
The game will be broadcast on ESPN at 7:15 p.m. ET and on the IU radio network (XM 91, Sirius 91):
With no marquee home non-conference game on the schedule, it doesn't get any better in the pre-Big Ten slate for Indiana than Tuesday's trip to Syracuse.
The Hoosiers have been tested a couple of times at Assembly Hall and against Connecticut at Madison Square Garden, but going into a true road environment for the first time presents a new set of challenges.
The Carrier Dome, which drew an NCAA-best 426,347 fans last season, will be truly alive for the first time this season after four home games against low major competition for the Orange. The shooting backdrop will provide a much different look for many of IU's young players who haven't experienced such a large venue. And the spotlight will be squarely on this game as it tips off a Big Ten-ACC Challenge doubleheader on ESPN that also features Duke vs. Michigan.
We learned plenty about Indiana as it navigated its way to a 6-1 start in November. On Tuesday night in Syracuse, we'll learn much, much more.
PERSONNEL
Despite losing Brandon Triche and James Southerland to graduation and Michael Carter-Williams to the NBA, Jim Boeheim has the talent necessary for another Final Four run.
The Orange return several notable contributors from last year's group that fell to Michigan in Atlanta including C.J. Fair, Jerami Grant and Trevor Cooney and added a freshman point guard in Tyler Ennis who is already performing like a veteran.
The 6-foot-8 Fair, who considered a jump to the NBA before returning for his senior season, is one of four Syracuse players averaging double figures with 18 points per game. His shooting numbers, however, haven't been great for a player using such a high percentage of his team's possessions (27.2 percent). Fair is shooting just 47.2 percent on 2s and 33.3 percent on 3s.
Joining Fair in the Syracuse frontcourt are sophomores Jerami Grant and DaJuan Coleman, junior Rakeem Christmas and senior Baye Moussa Keita. Grant, a DeMatha product, comes off the bench but is the team's third leading scorer at 14.2 points per game. At 6-foot-8 with length and athleticism, Grant is a force on the offensive glass (13.7 OR%).
The 6-foot-9 Christmas hasn't developed much offensively, but finishes the opportunities he does receive. Christmas is shooting 68.4 percent on 2s. The 6-foot-9, 288 pound Coleman only plays 14.4 minutes per game, but produces when he's on the floor. He's taken more free throw attempts (23) than field goal attempts (20) and has an offensive rebounding percentage of 21.5, which would rank third nationally if he had the minutes to qualify. Keita is a rim protector (7.4 block percentage) who adds depth to the frontcourt rotation.
The backcourt rotation includes Cooney, Ennis and Michael Gbinije, a transfer from Duke who has converted from the wing to a ball handler. Cooney, a sophomore who was a fringe rotation guy last season, is now the team's second leading scorer and best 3-point shooter. He's hitting 45.7 percent of his 3s and benefits greatly from the playmaking ability of Ennis, who has a team-leading assist rate of 26.3 percent. Ennis isn't particularly efficient offensively (42.1 eFG%), so when a break down occurs on the perimeter, marking Cooney is the clear priority. Gbinije is also marginal from an efficiency standpoint (45.5 eFG%), but is still adjusting to a position change.
TEMPO-FREE PREVIEW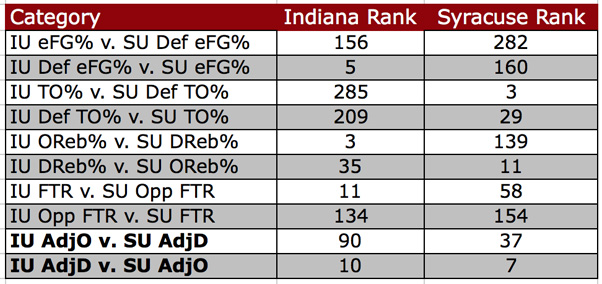 The vaunted 2-3 zone once again awaits Indiana and the turnovers that come as a result are potentially crippling to Indiana's chances in this game. The Orange rank third nationally in defensive turnover percentage and rarely turn it over themselves. They are, however, allowing opponents to shoot an effective field goal percentage of 53.8, which ranks 282nd nationally.
The sample size is small, but that last stat is a notable difference from a season ago where Syracuse was causing turnovers and also holding teams to an effective field goal percentage of 42.6. If IU can avoid unnecessary turnovers, the numbers so far this season say there are decent looks to be had against the zone.
Like Indiana, Syracuse is a relentless offensive rebounding team. The Orange have more bodies and size in the frontcourt, which makes the importance of blocking out paramount for the Hoosiers. When IU goes to the glass, the 2-3 zone should allow for a fair amount of second chance opportunities as Baylor just rebounded 50 percent of its misses in a 74-67 loss in the Maui Invitational championship.
Free throws also carry a ton of importance for Indiana to perform well offensively without much reliable 3-point shooting. Opponents are shooting 37.7 percent on 3-pointers against Syracuse this season, but Indiana can't afford to settle from the perimeter and shoot a poor percentage. Working the ball around in the halfcourt and attacking the rim with the purpose of getting to the line gives IU its best chance for success.
WHAT IT COMES DOWN TO
For just the second time this season, Indiana enters as the underdog according to Ken Pomeroy as the tempo-free stat guru's model predicts a 76-69 win for the Orange.
The model for success is fairly straight forward for the Hoosiers as they enter a hostile environment and try to avenge the loss that ended the 2013-2014 season. Indiana must avoid turning over the ball at a rate anywhere near the season average for Syracuse opponents.
Syracuse opponents are turning it over on 26.7 percent of their possessions, which ranks third nationally and speaks to just how difficult the zone is to navigate. Syracuse's defense hasn't been great when it doesn't force a turnover, but Indiana coughed it up on 27.7 percent of its possessions in the Sweet 16 loss and a repeat performance is sure to produce similar results.
Unlike last season, Indiana enters as a decided underdog, but this is a game that Will Sheehey and Yogi Ferrell, like many IU fans, have had circled on their calendars for most of the offseason.
All tempo-free stats via KenPom.com.
Filed to: Syracuse Orange