Jeff Howard starts, Jeremy Hollowell scores a career-high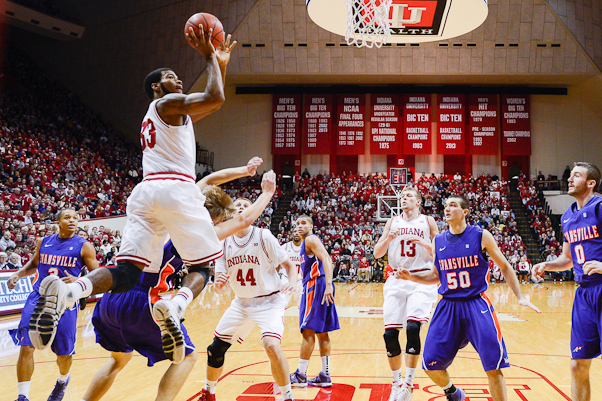 As the news circulated, Indiana fans were perplexed.
When Indiana's starting lineup was announced for its seventh game of the season on Tuesday night against Evansville, sophomore Jeremy Hollowell, who had started the Hoosiers' six prior games, was excluded. In his place, senior walk-on Jeff Howard — who had played only 85 minutes of college basketball in his career — would start.
The buzz generated on social media led to "Jeff Howard" trending nationally on Twitter during much of Indiana's 77-46 win against Evansville, as the Hoosiers advanced to 6-1 in the 2013-2014 season.
"Coach did what he did for his reasons," Howard said following the game, in which he scored two points, grabbed three rebounds and had one assist in 15 minutes of action. "I just came and brought to the team what I bring to the team."
Before Tuesday's game, Indiana coach Tom Crean told both Howard and Hollowell the news. His reasoning, Crean insisted, was that Howard "epitomized what we wanted out there in the form of energy, communication and intensity."
But Howard has played only eight minutes this entire season. There was no intention, Crean said, of trying to "light a fire" for Hollowell to perform better.
"To me, it's always up for debate on the outside but it's never up for debate on the inside: It's who's going to really come out and bring their very best every day, and every day is measured," Crean said. "I don't think it was any one thing of trying to light a fire, so to speak, I think we were trying to give ourselves the best chance to start this game."
When Hollowell found out the news, he said he "just went with it." In his first six games of the season, he went 16-for-45 from the field and led the team with 18 turnovers.
Less than a minute after he came of the bench at the 14:31 mark of the first half, Hollowell took his first shot: a 3-pointer. It went in, and he gave Indiana a 15-2 lead.
It was the start of a career-night for the 6-foot-8 Indianapolis native, who had 18 points on 4-of-8 shooting and 8-of-9 free throws, three rebounds, two steals and only one turnover.
"My shot was falling, attacking the basket, getting to the free throw line," Hollowell said. "Seeing the extra work pay off with my jump shot — I've been getting up a lot of reps — seeing that pay off, I feel like that's been helping a lot."
Evansville offense stifled
Time after time on Tuesday night, Evansville coach Marty Simmons would walk down the sideline at Assembly Hall shaking his head.
Coming into the game, the Aces had one of the NCAA's top offenses. They averaged 90.2 points per game, had the nation's top 3-point shooting percentage (52.7 percent) and were outscoring their opponents by a 13.6 point-per-game clip.
And then, Evansville ran into an Indiana team that caused all sorts of problems for the Aces.
"There's a lot of things we felt like we've done pretty well to this point and we got away from it tonight," Simmons said. "We've got to be a detailed team. We didn't execute very well, and IU had a lot to do with that. Their length, their effort, size…"
Just 5:29 into the game, Indiana got out to a 12-0 lead. From there, the Aces were playing catch-up all night but never trimmed the score to a single-digit deficit. The Aces shot 29.1 percent from the field and just 18.8 percent from beyond the arc and turned the ball over 15 times.
And Evansville's final scoring output of 46 points was its fewest since it scored the same amount against Missouri State on March 4, 2010. Its leading scorer, sophomore D.J. Balentine — who averaged 29.6 points per game — scored only 14 points off 5-of-17 shooting.
"They did a lot of good things, and we weren't patient," Simmons said. "I just think their communication — they switched up some things on us — got us stagnant."
"We have tremendous respect for Evansville and for the offensive firepower that they had," Crean added. "The numbers were very high and very real and when you watch them on film. We were absolutely committed to doing the best job we could do defensively."
Syracuse up next
With a week off for the Hoosiers to enjoy Thanksgiving, Indiana will next play on Dec. 3 at No. 8 Syracuse as part of the Big Ten/ACC Challenge.
The Orange are undefeated thus far this season at 6-0 and will play in the Maui Invitational title game against No. 18 Baylor on Wednesday.
Filed to: Jeff Howard, Jeremy Hollowell, Tom Crean