What to Expect: Stony Brook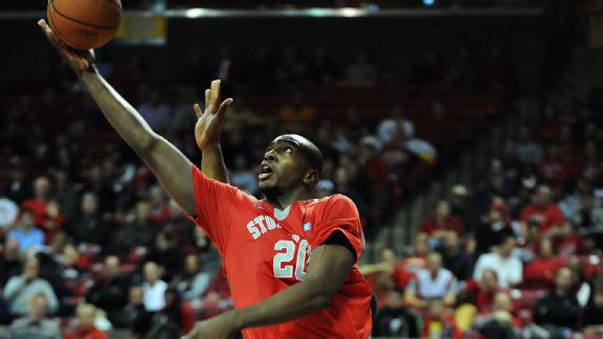 It's a quick turnaround for one of the nation's youngest teams as No. 23 Indiana hosts Stony Brook tonight in the 2K Sports Classic benefitting the Wounded Warrior Project in Assembly Hall.
The game will be broadcast live at 5 p.m. ET on BTN with Steve Physioc and Shon Morris on the call as well as the IU radio network.
Stony Brook wasn't a game fans circled on their calendars when the 2013-2014 schedule was released in August, but the Seawolves, who won the America East regular season championship last season, are the best non-conference opponent that will travel to Assembly Hall.
After being bounced in the second round of the NIT at Iowa, Stony Brook has its sights set higher this season. A first-ever appearance in the NCAA tournament tops the list of goals for the New York-based program and tonight's game is one you can bet its players circled when it was announced over the summer.
PERSONNEL
2013 America East player of the year Tommy Brenton graduated, but Stony Brook returns its other four starters from a team that finished 25-8 and beat Massachusetts in the NIT.
Senior guards Anthony Jackson and Dave Coley run the backcourt and thus far, Jackson has been Stony Brook's go-to scorer. The 6-foot guard is averaging 21 points on 57.1 percent shooting through three games. It's been a different story for Coley, who has an effective field goal percentage of just 30 this season and hasn't been a particularly strong shooter throughout his career.
Sophomore Jameel Warney (pictured), a 6-foot-8, 255 pound forward, was one of the nation's most efficient freshmen a season ago and the America East freshman of the year. He shot close to 62 percent on twos and got to the foul line regularly, where he converted on just 55.7 percent of his attempts. Through three games, Warney is averaging 15 points and 11 rebounds and will likely be matched up against Noah Vonleh.
Forward Eric McAlister starts alongside Warney in the frontcourt and isn't much of an offensive threat but is the team's best shot blocker. Another player to watch is sophomore guard Carson Puriefoy, who played in all 31 games last year as a freshman and is averaging close to 9 points off the bench.
A TEMPO-FREE GLANCE
Stony Brook has played a deliberate pace every season under Steve Pikiell and being able to impose that style on an Indiana team that is looking to run at every opportunity is a key in tonight's game.
The Seawolves are taking care of the ball through three games (13.6 TO%) and they're also hitting 3-pointers (42.9 percent), so this isn't a team that Indiana can afford to spot an early lead.
Stony Brook was a very good defensive rebounding team last season, but have just been average through three games this season with a defensive rebounding percentage of 29.6 percent.
Two early staples for this Indiana team have been crashing the offensive glass (46.6 OR%) and getting to the foul line (58.5 free throw rate). Both loom large as needs to use its length and athleticism to carve out second chance points and also get to the line and take advantage of the new emphasis of enforcing hand check rules.
WHAT IT COMES DOWN TO
Stony Brook is a program that continues to improve under Pikiell and this might be his most well rounded team despite losing Brenton to graduation. Johnson can score from the perimeter and Warney might not be talked about nationally, but was clearly one of the best mid-major freshmen last season.
On the other side of things, the Seawolves will have a tough time with Vonleh in the post and it'll be interesting to see how Indiana adjusts if Stony Brook plays zone to try and neutralize the freshman. The Hoosiers saw a zone early against LIU Brooklyn that dared them to take early shots from the perimeter and that was a big reason IU dug itself a hole to climb out of.
The KenPom prediction is Indiana 74-66 and Vegas likes the Hoosiers by 12. This is a significant challenge for the Hoosiers as Stony Brook has experience and a couple of their best players came to Assembly Hall two seasons ago for the season opener.
CREAN ON STONY BROOK
"I think they're outstanding. I think it's going to be a major battle for us because they're older, they're experienced, they know how to play, they've won. They've got very good toughness. We're going to need every seat filled on Sunday. I mean, there's no question about it. I know the tickets are already sold. Now we need every seat filled because it will be a great battle for our guys.
"You'd like to have more time to prepare for it, but we don't have that. Next week, we turn around and play Thursday and Friday. I think it's great experience for them. It will be a very tough game. I mean, they score inside, they score outside. They defend and they're very physical."
All tempo-free stats from KenPom.com.
(Photo credit: Getty Images)
Filed to: Stony Brook Seawolves