Indiana takes control early, dominates Samford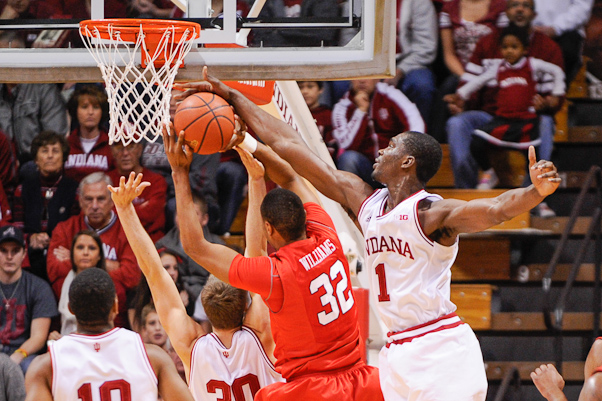 As time expired on Indiana's 73-72 victory over LIU Brooklyn on Tuesday, the Hoosiers had escaped an upset they did not want any part of. But Indiana coach Tom Crean hoped the near-loss gave his team a sense of urgency, one where his team would take every opponent seriously.
From the opening tip of Indiana's 105-59 win over Samford on Friday night, the Hoosiers maintained control. Indiana opened the game on a 28-7 run, and Samford did not lead once. The Hoosiers cruised to their highest point total since 2011 in their third win of the season.
"I thought it was very important that the players grasp how much better they could play and really understand that the way we played the other night is going to be a recipe for disaster," Indiana coach Tom Crean said after the Hoosiers' win. "We've got to grow up in a hurry.
"I thought our guys over the last couple of days absorbed that message and they retained it throughout the evening."
So what changed from Tuesday's game to Friday's?
"We weren't hunting for shots," said sophomore guard Yogi Ferrell, who scored a career-high 26 points. "We were pretty much taking what the game was giving us. We were looking more inside out. It's what coach is pushing for us to do each game."
In Friday's game, the Hoosiers outshot Samford, 57.1 percent to 29.9 percent. At one point, with 3:33 left in the game, the Hoosiers had a 51-point lead.
Although Indiana cruised on Friday, its next challenge could be similar to that from Tuesday night.
Stony Brook, a team that won the regular season America East Conference title last season and is currently 3-0, comes to Assembly Hall on Sunday evening. And with a quick turnaround, facing a team that is already experienced and successful has put the Hoosiers on high alert.
"They're definitely an NCAA tournament team," Ferrell said. "We're not going to take this game lightly at all, just kind of like we did for LIU Brooklyn.
"We're going to get in the film and watch them and prepare for them."
Seltzer impressed with Hoosiers in return to Assembly Hall
After being on the receiving end of Indiana's second-highest point total in the Tom Crean era, Samford coach Bennie Seltzer had nothing but high praise for his former employer.
"The athleticism of that team is completely off the charts," he said following his team's 105-59 loss. "That's probably the most athletic team I've seen in a very long time.
"With that size and that athleticism, Indiana's going to be a very tough team to beat."
An assistant coach at Indiana from 2008, the time of Crean's hiring, to 2012, when he took the head coaching job at Samford, Seltzer helped Indiana rebuild its storied program. Now trying to build a program of his own, he and his team received a 46-point blowout loss on Friday night.
But Seltzer said there were positives he and his team could take a way from such an experience, things that his team can learn from Indiana.
"The thing I want our guys to understand is that there's a level of intensity that you must play at, regardless of if you're at Indiana, Samford, or everywhere else in between," Seltzer said. "These guys had a chance to see how hard you have to play and how hard you have to compete to be successful."
Mosquera-Perea electrifies in win
Time after time on Friday night, sophomore Hanner Mosquera-Perea got the fans at Assembly Hall on their feet.
With three dunks on eight total points, Perea set his career-high in both categories as his teammates continued to be impressed with his play.
"He's playing with confidence," Ferrell said. "Coach even said he's the most improved player he's ever coached. I can see that. He's great with his footwork. He's been in the gym so much working on his moves."
One dunk in particular that Ferrell specifically remembered came in the second half with 5:19 remaining in the game.
Off a missed Austin Etherington layup, Perea rebounded the ball with his right hand from behind sophomore Jeremy Hollowell and elevated. As he was falling to the ground, Perea straightened his right arm and slammed the ball into the net, producing his third and perhaps most exciting dunk of the night.
In fact, of all the dunks Ferrell has experienced during his time at Indiana, including those from Victor Oladipo last season, he called Perea's final slam on Friday night "the best one."
"He's getting so much better," Crean said. "He's getting smarter. He's getting more confident."
Other notes
· With a rebound off a missed Samford layup with 9:05 remaining in Friday night's game, freshman Noah Vonleh clinched his third double double in as many games as an Indiana Hoosier. He finished with 13 points and 10 rebounds, becoming the first IU freshman ever to record three double doubles in his first three games at Indiana.
"He's probably one of the best freshmen I've seen, especially as a big," senior Evan Gordon said. "You usually see a big trying to figure out things. Noah has been able to adapt pretty well. He's taken it in stride."
· Indiana had 13 players score in its 46-point win, including Collin Hartman and walk-on Andrew Calomeris scoring their first points as Hoosiers. The Hoosiers also had eight players score at least seven points, with Ferrell leading with 26, Vonleh adding 13 and Gordon and freshman Troy Williams each scoring 10. Mosquera-Perea scored 8 and Hollowell, freshman Devin Davis and freshman Stan Robinson each scored 7.
· Part of that scoring came from Indiana's 36 made field goals, its most since Dec. 19, 2012, when it also made 36 against Mount St. Mary's.
Filed to: Bennie Seltzer, Noah Vonleh, Samford Bulldogs, Yogi Ferrell