Five takeaways from Indiana's win over Samford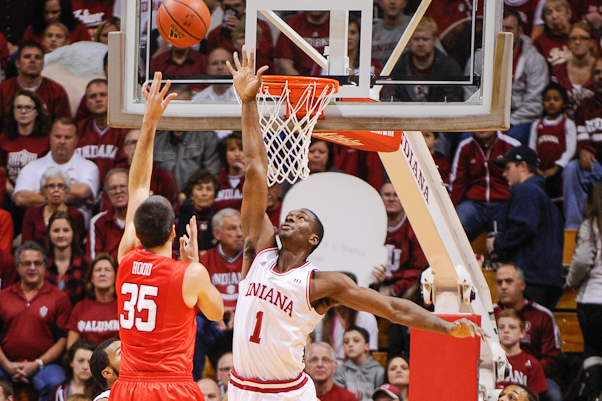 Indiana picked up its third win of the season on Friday night with a complete dismantling of Samford, 105-59, in front of an announced sellout at Assembly Hall.
Here's a look at five takeaways from Indiana's win:
· Vonleh making it look easy: Another night and another double double for freshman Noah Vonleh. In the win over Samford, Vonleh posted 13 points and 10 rebounds, making him the first IU freshman ever to begin a career with three straight double doubles.
The freshman crop in college basketball is extremely talented this season and Vonleh isn't being discussed much on the national scene, but he's been Indiana's best player early this season. His free throw troubles during the exhibition games have disappeared through three games as the 6-foot-10 forward is shooting 77.3 percent from the line.
· Ferrell's career night: With 26 points, sophomore guard Yogi Ferrell set a new career-high and did so in efficient fashion. Ferrell was 8-of-11 from the field, 5-of-7 from the foul line and also had six assists. Through three games, IU's floor general is averaging 18 points, four assists and four rebounds and is shooting 40 percent from behind the 3-point line.
What might be more important to track as the season moves along is Ferrell's turnover percentage. As a freshman, he coughed the ball up on 24.5 percent of his possessions. Early this season, that figure has dropped to 17.4 percent. We're still a long ways off from drawing any definitive conclusions on just how improved Ferrell will be this season, but the early returns are encouraging.
· Hoosiers make it a point to get to the line: Indiana shot a program-record 55 free throws in the season opener against Chicago State. That was followed by only 17 attempts in a narrow win over LIU Brooklyn. The Hoosiers were back in attack mode against Samford and the final stats bear it out. IU attempted 41 free throws for a free throw rate (FTA/FGA) of 65.1 percent. The Hoosiers have ranked in the top 15 nationally the past two seasons in free throw rate and Tom Crean believes it is a key metric for his team once again.
"It's got to be in the first line of strengths," Crean said last night. "It's got to be in the first sentence of the identity of the team. I mean, it really has to be because we got a lot of athletes, we got a lot of guys that can drive the ball straight line. We may not have all the skills down when it comes to the shooting, passing, post moves, all that stuff yet. But to attack the rim, to attack the backboards, to get out and play and create turnovers defensively, all those things help lead to the free throw line."
· The bench makes a major contribution: After only scoring five bench points against LIU Brooklyn, Indiana scored 43 points off its bench on Friday. Evan Gordon scored 10 points and Hanner Mosquera-Perea added a career-high eight. In total, eight different bench players scored. Once the competition level increases, the Hoosiers won't get that level of production off the bench, but developing consistency is pivotal to this team's success.
Last season, Indiana expected to have more depth than it ended up with when the year ended. Postseason, Crean acknowledged that the season's bench never really materialized as he had hoped. Whether or not depth can end up as a true strength of this team remains to be seen, but Indiana appears to have several players — Devin Davis, Gordon, Mosquera-Perea and Stanford Robinson stand out so far — who could ultimately make the bench an improved unit over a season ago.
· Assembly Hall faithful recognize Seltzer, Hightower: Former Indiana assistant Bennie Seltzer, who worked tirelessly for four years as a major piece of Crean's staff in Bloomington, received a nice ovation from Hoosiers fans prior to tipoff. In his second season at Samford, Seltzer's stop was his second road game of six straight for his young team. Samford has only reached the NCAA tournament twice in program history and its last appearance came in 2000, so Seltzer faces a major building project in Birmingham.
Long time Big Ten official Ed Hightower worked his final game in Assembly Hall last night and was also recognized late in the second half as Crean took the microphone during a timeout and asked fans to applaud Hightower. The response started out somewhat chilly, but ultimately ended with a nice applause for Hightower, who is the superintendent for Edwardsville (Ill.) schools.
Filed to: Noah Vonleh, Samford Bulldogs, Yogi Ferrell