Indiana addresses needs with 2014 recruiting class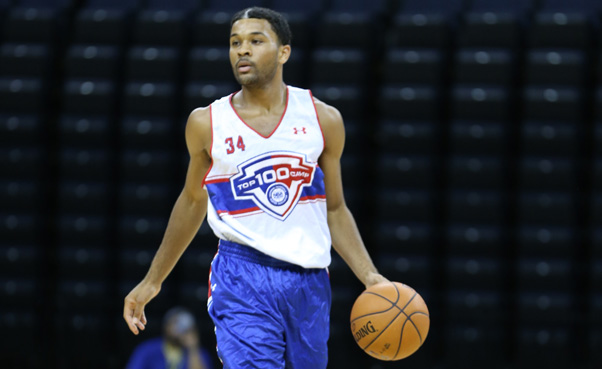 As Tom Crean and his assistant coaches Steve McClain, Tim Buckley and Kenny Johnson addressed the media about a 2014 recruiting class in which James Blackmon Jr., Robert Johnson and Max Hoetzel all signed their National Letter of Intents on Thursday, Crean emphatically repeated the phrase on multiple occasions.
"We addressed our needs with a capital 'N'," he said.
That need that was so effectively filled by a class with two 6-foot-3 guards and a 6-foot-7 forward?
"Downhill players that can make shots," Crean said.
With a team that made only 2-of-24 3-point attempts in its first three halves of the season, Indiana's 2014 recruiting class, ranked No. 17 according to the 247Composite, is regarded for its shooting. Blackmon and Johnson each have elite shot-making skills. Indiana focused on recruiting Hoetzel because of his size and long-range shooting ability, in addition to his athletic upside.
But with a team that might not have the shooting weapons it wants now, Indiana's staff has found them, and they are only a year from donning the cream and crimson.
"I think people could come in here and say 'there's a real need, these guys are really good, there's a lot of talent here, but I think I can come in and really impact it' because that's what we needed," Crean said.
"We felt they were really good basketball players to fit in what we already have," Buckley added, "And not only will they do well here but they'll also accentuate what the other guys do here."
Crean addresses Blackmon decommitment, recommitment
In what was a whirlwind two-and-a-half months, Blackmon decommitted from Indiana on Aug. 8 and recommitted to the Hoosiers on Oct. 31. It was a well-documented case of recruiting drama, as Blackmon went from choosing Indiana in his freshman year of high school to making his final decision between the likes of IU, Kentucky, Michigan, Michigan State and Kansas.
Of course, Indiana fans know how the script played out — the chatter heading into Blackmon's televised commitment on ESPNU had shifted from him heading to Kentucky to Indiana — but how did Crean view the entire situation? How much did he know before Blackmon announced before a national audience that he would, in fact, attend school in his home state?
"I didn't truly know he was coming until he got on that air that night," Crean said. "I knew what our last conversations were like. I know what those were like, without question, and I knew what he wanted to do when he got up there. But actually going up there and doing it and pulling out that hat, it wasn't like I had the smile going into it. We needed to see him put that hat on. We really did.
"It changed by the minute. We knew we were in it. We absolutely knew we were in it. But it was worth it. Not just because we got him but because how we felt about him. We always thought this was the best place for him."
Hoetzel LOI signed, but not yet received
Indiana's coaching staff addressed the commitments of Blackmon and Johnson on Thursday but did not address Hoetzel. This is because Indiana had not received Hoetzel's National Letter of Intent at the time of the press conference (5:30 p.m.).
Hoetzel, who is attending preparatory school in Massachusetts, still needed his parents sign his NLI before Indiana could process it. His parents live in California, so the NLI should be processed in the coming days.
Filed to: James Blackmon Jr., Robert Johnson, Tom Crean