Crean sees similarities between Indiana and Samford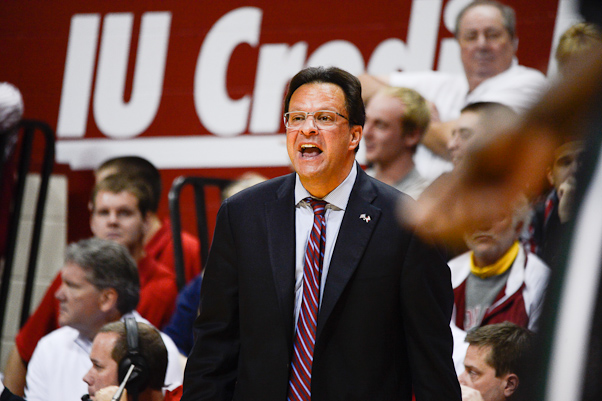 Indiana coach Tom Crean has made it clear. Tonight's game against Samford will not be "just another game."
As the game tips off just after 7 p.m., Crean will coach against his former assistant, Bennie Seltzer, now the head coach of the Bulldogs. Seltzer had coached at Indiana from 2008 to 2012, and tonight, he will make his first return to Assembly Hall to coach against his mentor.
"We're dealing with somebody like Bennie Seltzer who has had such a hand in the development and the reestablishing of this program over the past few years," Crean said Thursday afternoon in his pregame press conference. "Bennie was here through every tough period, through every tough moment, through all those tough years, and was just an absolute study in perseverance in the sense of how he continued to have incredible energy every day, how he continued to make the players better."
After the 2011-2012 season in which Indiana reached its first Sweet 16 under Crean, Seltzer left to take the head coaching job at Samford. After coaching under Crean for six years, including two at Marquette, Seltzer finally took the reins of his own program. And in his first year at Samford, he went 11-21 but led the Bulldogs to a .500 record in Southern Conference play for the first time in school history.
In year two, Seltzer will make his return to Bloomington with a team that is currently 1-1, but one that returns the SoCon Freshman of the Year in forward Tim Williams and a returning all-SoCon first team member in junior guard Raijon Kelly.
"They're getting deeper," Crean said. "They shoot the ball well. They've got numerous guys that can make threes, and they've already been on the road, so it's not like we're going to be their first road test. We know it's going to be a very, very competitive game."
But what makes Samford such an intriguing opponent for Indiana is that Crean sees a lot of the similarities between his team and Seltzer's. The fast-paced preference of Samford's offense; the type of plays they run; the type of shooting tendencies their offense relies on.
Despite having worked with Seltzer for so long, Crean also thinks he doesn't have the full picture. He called Seltzer an "innovative mind" on Thursday, one that has a much deeper playbook than he has revealed to date. Tonight, Crean thinks his mentee will open that playbook against his former employer.
And it's a source of concern for Crean, too.
"I don't know if I have a great answer to that because they've only played a couple of games," he said. "But I think what (Seltzer's) coaching with is a tremendous spirit, and he took that team into some tough environments last year, and they did some really good things."
Sheehey talks Seltzer
In a quote that IU provided to the media, senior Will Sheehey addressed what his feelings will be like going against Seltzer tonight.
Seltzer coached Sheehey for two seasons, his freshman year when the Hoosiers were 12-20 and his sophomore year, when he was the sixth man on a team that went 27-9.
"Once I got here, he helped push me through a lot of things," Sheehey said. "Coach Seltzer was definitely one of the reasons this program has grown back into what it is and why many of the guys who have left developed into the the players they are now."
Filed to: Bennie Seltzer, Samford Bulldogs, Tom Crean