Q & A: Bennie Seltzer talks return to Assembly Hall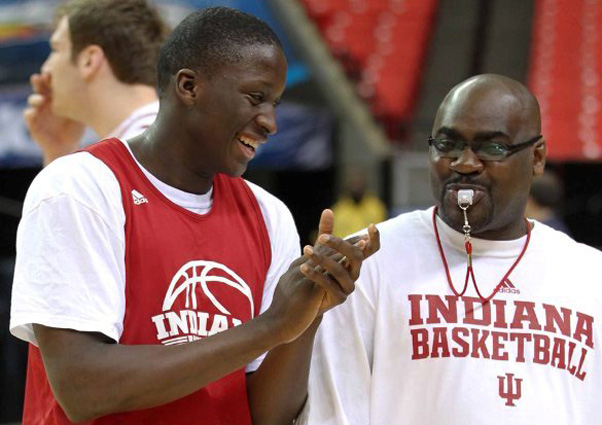 In a phone interview as his Samford Bulldogs were traveling to Bloomington, Ind., former Indiana assistant coach Bennie Seltzer talked with Inside the Hall extensively about his upcoming return to Assembly Hall on Friday night.
Seltzer was an assistant coach with the Hoosiers from the time Indiana coach Tom Crean was hired in 2008 to when he was chosen as Samford's head coach, in 2012. Seltzer also coached with Crean at Marquette from 2006 to 2008.
Below is the transcript from that conversation, as he prepares for his first-ever matchup against his former boss:
How did this game between Indiana and Samford come about?
Seltzer: When I got the job last year, we talked a little bit about it, but with scheduling, it just couldn't happen and we weren't able to do it. And this time, this year, he said that we'll try to do it and if it will work, we'll play each other. And so it all worked out. That's kind of how it panned out, we just talked about it.
When you plotted this game on your schedule, was it one that you immediately circled the date for?
Seltzer: Not really, I mean, not for the reasons one would probably think. We circled it because I want our kids to the experience that college basketball atmosphere. I think Assembly Hall is the best college basketball atmosphere in the country, and I want our kids to experience that. You know, I had the pleasure of walking through that building every game night and witnessing that type of atmosphere. And so although we will be the opposition, that's a side I haven't experienced. But nonetheless, it's an unbelievable basketball atmosphere and that's something that, as a basketball coach, you want your kids to experience.
What are you going to tell your players as they step out onto the court?
Seltzer: Well it's not like this is our first road game. I mean, we've had road games at Kentucky last year, we played at Louisville, we played at Memphis. So we've played in some great college atmospheres, but this is a little different because this is the place where I worked. And so, that would be the main difference. But we've played in some significant games. This one is a little special. The ball is still round and the basket is still 10 feet, so there's not a whole lot to say because we're coming in together. Just, it's a great atmosphere and this game here is a little personal because I worked here — personal in the sense of this is the place that lives and breathes basketball. I just think it's one of the greatest places in the country to play, so it's a little special for that.
From the whole experience of taking Indiana from six wins in 2008-2009 to the Sweet Sixteen in your last year here, what did you learn from that experience?
Seltzer: Well, I'll tell you what. Going through that experience that first and second year, I think I came across every situation known when it comes to basketball, in terms of building a team. What I learned most, I think coach Crean did an unbelievable job of doing it the right way. And what I mean by that is that we never tried to have a quick fix. We stayed true to our recruiting precedent in terms of the type of player we wanted to bring. For one, the type of player we wanted that would fit the way coach Crean coached, and secondly, we wanted to go out and get the player that fit what Indiana basketball is all about. We wanted to get those kids that were going to be four-year players and were going to come in and learn the Indiana way and do all those things. So we didn't try and go out and find players to go ahead and try to build a quick-winning program right away. Of course we wanted to win, but we wanted to win for the long haul. And among the things coach Crean kept saying, 'There's no quick fix to it. We're just not going to do a quick fix. We're going to do the right thing.' And I think that's what we did.
As far as what you're doing at Samford, is it a similar approach?
Seltzer: Well, you know, some of those principles in terms of recruiting are the same. There's a big difference between Indiana and Samford, mainly that Samford's a private institution. It's a Baptist university. And so there are certain things and certain kids that won't fit the Samford way. In terms of recruiting, it's a tough school to get in. It's nothing short of an Ivy League school when it comes to the academics, and so every kid that's a good basketball player won't pick Samford. And so what we have to do, myself and my staff, we're going to have to understand that every kid that we like that's a good basketball player may not fit the mold of Samford University. And those are the kids that we don't recruit. But we have to find kids that are not only good basketball players and not only good students but have a tremendous faith in God and understand the Samford way. And so that kind of narrows our recruiting a little bit but nonetheless we're out there. I think we're on some good guys.
For those don't know much about Samford this year, what are your team's biggest strengths this year, and where do you think you guys can improve?
Seltzer: We're young. We're really, really inexperienced, in terms of guys who have played major minutes. We have two walk-on kids who are seniors. But we're extremely young. Two of our best players, we have the Freshman of the Year in our league last year in Tim Williams. Although he's a sophomore now, the thing is, he's still a sophomore. He plays major, major minutes. He played over 35 minutes a game last year. And then our first-team all-league kid in Raijon Kelly. He's only a junior that played major minutes, as well. Those two kids are the key to our team, in terms of how we score.
You know, we have to get better at everything, pretty much. There's a lot of things we have to get better at. I think we can shoot the ball pretty well and we score from different areas from the floor, but other than that, statistically, there's still some work to be done there. Rebounding, there's still some work to be done there. I mean, as a basketball coach, that's a tough question to answer because it never seems like you're good at anything. And so we're always constantly, constantly, constantly looking to improve. And so we're not bad, but we still do have a ways to go. Only on our third game of the year.
As far as what you've seen from Indiana so far, Will (Sheehey) is really the only guy that was there when you were there and is still around. Just from watching them on film, what stands out the most about their team that you've seen?
Seltzer: With Will, I love Will. He's a tough kid. He's a hard-nosed kid. He'll have that team, in terms of their toughness, he'll challenge guys. Before long, they'll be an extremely tough team because of Will. I think his will to win, no pun intended, and how hard he plays will affect the other young guys on that team.
You look at that team, with (Yogi) Ferrell at the point and (Noah) Vonleh can score and how talented he is and the skillset that he has, they're a tough team. They're a really, really tough team. Troy Williams is about as an athletic guard that has Assembly Hall has ever seen and that's crazy to say considering Victor (Oladipo) just left there a year ago. Victor is extremely athletic and so is Troy. I would love to see those two kids have a jumping contest. With all of the athleticism and speed, they are going to be a very, very tough team to deal with.
Going into last season, there was a lot of talk about Cody (Zeller) as being a potential player of the year and the impact he had on the program in his first year, but nobody was really talking about Victor. His rise was kind of unprecedented, but did that surprise you? It's hard to predict to any kid is going to go from off of the draft boards to No. 2 in the draft, but what about Victor allowed him to be able to do that and were you surprised at all about the season he had last year?
Seltzer: To be quite honest with you, I guess being picked No. 2 was surprising, but I figured he would be a lottery pick at the end of the year. The whole thing in terms of off the draft boards to becoming a lottery pick is not surprising because I know how hard that kid has worked. In high school, I used to watch him shoot during at six in the morning. The kid lived a hour away from school and he would be in the gym at 6:30 in the morning shooting jumpers by himself with one of the coaches. That was in high school.
And so once he got to Indiana, there was no difference. He was always told he wasn't a shooter. He was always told he wasn't a great ball handler. He was always told he was only an athlete. But that was a kid who worked on his jumper. He shot thousands and thousands of jumpers and he worked on his ball handling relentlessly and that was every day. That was every single day.
So he goes from told he's not a great jump shooter and he's not a great ball handler and that he's nothing but an athlete to becoming over a 40 percent 3-point shooter his last year in college. That was due to the relentless effort that he put in. His tireless, tireless effort at working every single day, that kid, he's the hardest working kid I've ever been around in terms of improving his game. And so it's not surprising that he's been able to do the things he's done because he deserves it. He's put in the time and deserves every thing that has happened to him because he's worked so hard. When someone talks about 'hard work pays off,' they should look at Victor Oladipo because he epitomizes hard work pays off. That kid worked his tail off.
Coming full circle into tomorrow, will there be any emotion for you coaching against coach Crean who you've worked for for six years and against a program that you helped get to where it is today?
Seltzer: Oh, absolutely. There will be emotions. I think coach Crean, he provided me and my family with an unbelievable opportunity to be a part of the staff at Marquette and once the opportunity at Indiana came along, there wasn't a second thought on either side, on his side or my side. That was something that I wanted to do was come and help rebuild one of the most storied programs in the history of college basketball and he provided me that opportunity. Yeah, there will be some emotions.
A lot of the things that we do comes from coach Crean and his style of play. You'll see a lot of the plays that we run will be identical to the things that he runs. There's no secret that a lot of the things I've learned in this game has come from coach Crean. I've learned a lot of things from a lot of people, but a good portion of my basketball philosophy comes from him. And so there will be some emotions. When you're coaching against one your mentors, I think that is special.
Filed to: Bennie Seltzer, Samford Bulldogs