Five takeaways from Indiana's win over LIU Brooklyn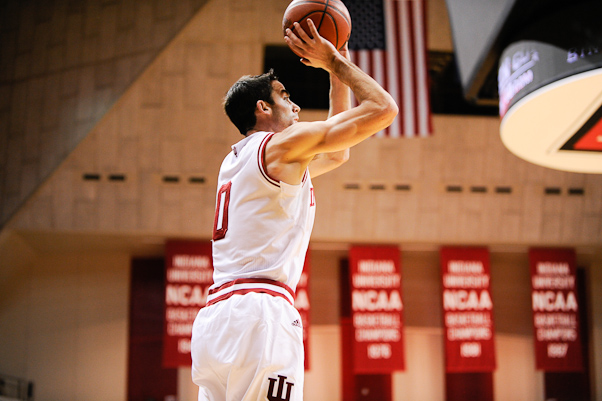 It wasn't pretty, but Indiana survived on Tuesday night and moved to 2-0 with a 73-72 win over LIU Brooklyn in the 2K Sports Classic at Assembly Hall.
Here's a look at five takeaways from Indiana's narrow win:
· Sheehey shines in second half: Much has been written about the role of Will Sheehey as he begins his final season in Bloomington. Will he shift to more of a scoring role? Or will his role in the offense stay the same as it always has been? Last night, we learned that Sheehey's role may change on a night-to-night basis. In the season opener, Sheehey took just six shots on his way to 10 points.
Last night, he was far more assertive offensively, but less efficient as he finished with 19 points on 6-of-18 shooting. But when Indiana needed Sheehey to step up, he did. After shooting 0-of-8 in the first 20 minutes, the senior from Stuart, Florida hit 6-of-10 after intermission on his way to 15 second half points.
· Vonleh's dominance continues: There will be bumps in the road as is the case with any freshman, but through two games, Noah Vonleh's impact can't be overstated. Vonleh logged another double double with 17 points and 11 rebounds in 27 minutes. When Vonleh gets the ball in the post, he knows how to find space and finish and he's been excellent on the offensive glass through two games.
The scary part, according to Tom Crean, is the amount of growth that lies ahead for Vonleh. "He's not even scratching the surface," Crean said. "He has no idea how hard he can play. He knows how hard he can play, but he doesn't know how long he can play that hard. I thought tonight was great growth. I thought he was much better tonight than he even was on Friday with understanding what the game was."
· Indiana gets little from its bench: The Hoosiers want to utilize depth this season, but Tuesday night, it was the starting lineup that accounted for nearly all of the production. Freshman Stanford Robinson was the only reserve to score (five points) and Evan Gordon chipped in some heady plays in the second half that helped keep Indiana in the game.
Beyond that, only one other reserve, Devin Davis, even attempted a field goal. Crean has defined depth as not having a dropoff when going to the bench, but that wasn't the case last night.
· Settling for jump shots early really hurt Indiana in getting to the line: A staple of IU's offense last season was getting to the foul line at a staggering rate. The Hoosiers ranked seventh nationally in free throw rate (FTA/FGA) in 2012-2013. But last night, LIU Brooklyn took 10 more free throws. Just a game after attempting 55 free throws, the Hoosiers took only 17 free throws on Tuesday night.
So what was the difference?
Indiana didn't move bodies or the ball against the 2-3 zone LIU Brooklyn deployed and dared the Hoosiers to beat them from the perimeter. IU finished the first half 1-of-16 from behind the 3-point arc. "We settled, obviously, including myself, early on," Sheehey said. "They were daring us to shoot and we shot it, which isn't what you should do. Eventually we figured out how to win."
· A close game early is more beneficial than a blowout: Regardless of how it happened, Indiana won a tight game and that experience should help this group both learn and grow. There's plenty of things that need to improve and should improve as the season moves along, but getting a challenge before going to New York next week is a positive. (And another challenge could await on Sunday as Stony Brook comes to Assembly Hall.) The Hoosiers were forced to play from behind for much of the second half, which is something they'd yet to experience. They also had to overcome adversity as shots weren't falling early and foul trouble was a factor for some of IU's key guys.
"This team does not have the luxury of going through close games and hard fought battles yet," Crean said. "Some of the players do, like Will, obviously, but we don't have a team of guys that have gone through that. Now we really didn't want to have it have to be tonight, but it was.
"The bottom line is if we didn't have the capacity to get better, if we didn't have the capacity to improve inside of the game, and if we didn't have the capacity to understand what the game was giving us, we'd have lost the game by 14, 15 points."
Filed to: Noah Vonleh, Will Sheehey