Notebook: Crean says sustainability is "not there yet"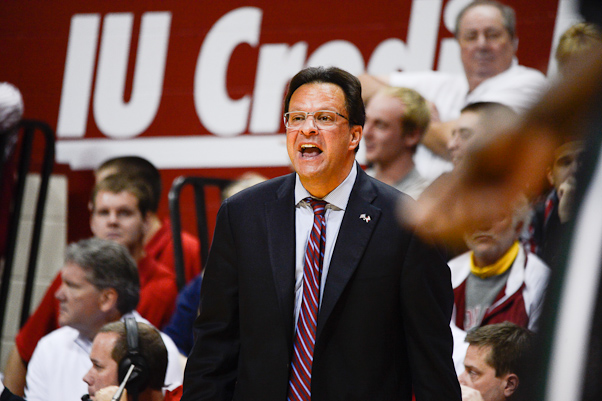 With three sophomores and five freshmen who appear poised to play rotation minutes, Indiana doesn't have a ton of experience to draw upon as it begins the season.
The Hoosiers cruised through Friday night's opener against Chicago State with little resistance, but the competition level figures to rise tonight as LIU Brooklyn comes to Assembly Hall.
The Blackbirds, who have reached three consecutive NCAA tournaments, are Indiana's second game of seven in a 19-day stretch to open the season.
LIU Brooklyn features one of the nation's better point guards in Jason Brickman, who led the nation in assists per game last year. LIU also utilizes a lot of ball screen action that will be unfamiliar to many of IU's young players.
The way Tom Crean sees it, the quick turnarounds and different styles of play the Hoosiers will encounter in this stretch present opportunities to learn about his young group.
"I think it's great that we have the games because we need the experience," Crean said Monday evening at Assembly Hall. "We scheduled it that way and part of it is because of the Wounded Warriors tournament we're going to play in in New York, that plays into it. I'm excited to see what we look like at the end of the week."
It's early, but Crean already has a list of areas he's looking for improvement in. He said that Indiana had several players practice well on Monday, while others did not. Developing consistency is going to take time and Crean understands that.
"It's all part of the process of having a team understanding how competitive they need to be on a daily basis," Crean said. "We're not there yet. It's all part of the sequence of events that you go through when you're trying to get your team to understand what they're capable of. We don't understand what we're capable of.
"The upside is there, the learning ability is there, the sustainability is not there yet, so it's going to be a very, very interesting week for us playing three games this week against the level of competition that we have. Hopefully we'll learn a lot about our team."
Specifically, Crean cited things like pursuit of the ball after a block out, moving without the ball, making back cuts and spacing on the perimeter and in the paint as areas that need work.
As for how IU's freshmen played in their debut after going back for a look at the film, Crean was impressed at how they let the game come to them without trying to force much.
"I think they did a good job the other night in the sense of taking what the game was giving them," he said. "There's no question that we can take care of the ball better. We're going to have some speed turnovers, I get that. But we don't want to have a lot of unforced errors because we're not as locked in or not as sharp. And those are the kind of things we're going to find out about our team over the next few weeks."
Other notes
· Vonleh named Big Ten freshman of the week: For his 11 point, 14 rebound and three block debut against Chicago State, Noah Vonleh was recognized by the Big Ten with the first freshman of the week award of the season.
Vonleh is the fourth freshman in the Crean era to record a double-double in his first game, joining Tom Pritchard, Christian Watford and Cody Zeller.
· Vonleh has high praise for Hollowell: One of the keys to Indiana's season is the growth of sophomore Jeremy Hollowell, who has shifted from a role guy off the bench to a more prominent piece of IU's rotation.
In Monday's press availability, Vonleh was asked what has impressed him the most about his teammate.
"I kind of look at him like a Magic Johnson in a way," Vonleh said. "He can play the point, he can get us into offense. When he has a smaller guy, he can go into the post and get easy buckets down in there."
· Hoosiers move up in coaches poll: Indiana moved up one spot to No. 23 in this week's USA Today coaches poll.
The Hoosiers remain unranked in the Associated Press Top 25, but are third in "others receiving votes."
Filed to: Jeremy Hollowell, Noah Vonleh, Tom Crean