The Inside the Hall Mailbag: November 7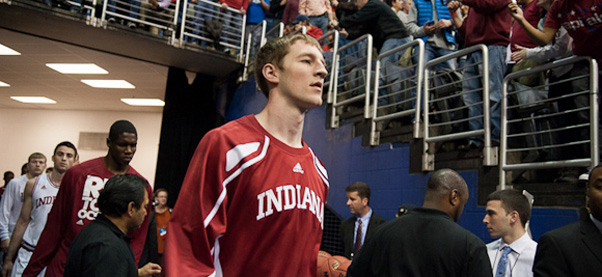 The Inside the Hall Mailbag is a collection of questions tweeted to us via Twitter (@insidethehall), submitted on our premium forum and sent to us via our Facebook page. Submit your questions and we'll answer as many as we can.
mcoghlan writes: Outside of free throws, Noah (Vonleh) has looked very impressive and seems to have a lot of potential. Do you see him eventually becoming a better player than Cody (Zeller)?
If we're talking eventually as in one day down the line in the NBA, I'll say maybe. If we're talking eventually as in while at Indiana, I'll say no. And that's no knock on Noah Vonleh. I think he has a chance to be an outstanding player.
But Cody Zeller was just the No. 4 pick in the NBA Draft and deserves a ton of credit for Indiana winning 56 games over the past two seasons. He was the best running big man in college basketball and arguably the most efficient big last season. It's no coincidence that Indiana went from 12 wins in 2010-2011 to 27 in 2011-2012. Zeller was not only excellent himself, he made others around him better. There's no doubt Vonleh will be very good with a chance to be great, but Zeller has already done it so I'll stick with him until proven otherwise. — Alex Bozich
kleeman20 writes: I guess I'm one of the few who hasn't noticed the big improvements from (Jeremy) Hollowell and (Hanner) Perea that were touted all off season. I know it was just two exhibitions, but if those two aren't major factors, aren't we at best an NIT team?
Even though you haven't seen the improvements from both Hollowell and Perea yet, they definitely have both improved over the offseason. And I think that improvement could even mean they are both much more comfortable on the court than they were in their freshman seasons.
If, for some reason, neither of them can contribute on the court, I think this team can survive. That said, the depth and experience — in both the backcourt and frontcourt — would be severely impacted, and I wouldn't expect them to make the NCAA tournament and think the NIT would certainly be a more realistic option. That said, I see both Hollowell and Perea making contributions to this team and think that an NCAA tournament berth is certainly within reach this season. — Jordan Littman
daviddoss83 writes: Do you see Troy (Williams) becoming one of the stars of this team and getting away from some of his early freshman mistakes later on in the season?
I'm not sure classifying him as a star at any point this season would be fair, but I do see him as an important contributor who will start a lot of games. Troy Williams is an elite athlete who has a lot of room for growth in his game. His upside is apparent the first time you watch him live. He can get past people off the dribble with ease and once he gets a clear shot at going to the rim, he's going to take it and most likely finish or get fouled.
But there's more to basketball than just making the "home run play", as Tom Crean pointed out recently. Williams will be able to dominate many of the inferior teams on IU's non-conference schedule on athleticism alone. Once the defense tightens up and Big Ten teams are able to scout him, he's going to have to make adjustments. If he can show a reliable jump shot, that'll make defenses that much more honest. He also needs to make his defense turn into offense. He's got the length and instincts to get in the passing lanes and create havoc and that's exactly what Indiana needs him to do. — Alex Bozich
NervousWreck writes: People love to talk about "deep teams". Do you see Crean continuing to filter in 10-11 scholarship players into the rotation each game – or are we going to see a core of 7-8 players take the majority of the minutes?
Whereas last season you had about 7 to 8 players seeing a majority of the minutes on Indiana's roster, I think this season you can expect to have a much deeper rotation. Like Crean has said throughout this preseason, the team has the potential to be really deep, but not many players have separated themselves yet. And he doesn't necessarily think that's a bad thing, either.
I think it's fair to expect a rotation of about 9-10 players in which the freshmen can build experience and contribute their athleticism immediately. I also don't think that Indiana has 7 or 8 players that they can rely on over others, at this point. Could that change by January and February? Certainly. However, I just think right now that there hasn't been enough separation where Crean is comfortable with a certain rotation, yet, which means we'll be seeing a much deeper rotation to start the season. — Jordan Littman
HoosierAsh writes: Are there any concerns about depth along the frontline on this team? With such little depth and experience among the current bigs, how does IU combat the opponent's perceived advantages in the post, especially in the B10?
I think concerns about frontline depth are legitimate. IU doesn't have a lot of experience, so it's fair to ask where the production is going to come from. What we know right now is that Noah Vonleh should be able to be a major factor right away, Luke Fischer has been battling injuries but is going to play and Hanner Mosquera-Perea appears to be improved, but nobody can be sure how much until the competition improves.
The good news is that there are very few dominant big men in college basketball, so there aren't going to be many teams that will be able to just throw it into the post and beat Indiana that way. I do, however, think that the Hoosiers will need either Fischer or Mosquera-Perea to develop into someone that can be counted on if Vonleh gets into foul trouble or has an off night. Neither guy will need to score much, but being able to defend at a reasonably effective rate and holding court on the glass are both important. — Alex Bozich
Olde Hoosier writes: Who do you predict will be the starting 5 when the Big 10 season starts?
I'm going to go with the obvious, Yogi Ferrell, Will Sheehey and Noah Vonleh, and I will also include Stanford Robinson and Jeremy Hollowell on there. I think as Robinson gets more healthy, his value to this team as a natural shooting guard will continue to build. I also think that Troy Williams could be a very valuable sixth man to this team and fill the role that Sheehey has played over the past few seasons of being that firecracker off the bench. Other guys I see contributing in a significant fashion include Evan Gordon, Luke Fischer, Hanner Mosquera-Perea and Devin Davis, though I think once you see this team play against Division I competition, we'll get a better read on who could have a bigger impact as Big Ten season approaches. — Jordan Littman
kmark22 writes: Is Max Hoetzel a definite for 2014 or could he reclassify for 2015?
He's a definite for 2014. When Hoetzel transferred to Wilbraham and Monson (Mass.) Academy from Calabasas (Calif.) High, he actually reclassified to 2015. That said, when Indiana started recruiting him and felt an immediate need for a natural shooter, it extended its scholarship offer as part of the 2014 class. Hoetzel decided, obviously, to accept the offer and will graduate this coming spring to join the Hoosiers' 2014 class. — Jordan Littman
Carl Stevens writes: Why isn't IU's season opener televised?
It's being shown live on the Big Ten Digital Network and then replayed Sunday night on BTN at 10:30 p.m. ET. As for why it's not being shown live on BTN, the network has St. John's at Wisconsin followed by Florida Gulf Coast at Nebraska on Friday night.
Those are the two best games of the evening in the Big Ten when compared to the alternatives of Chicago State at IU, Massachusetts Lowell at Michigan, Northern Kentucky at Purdue, North Carolina-Wilmington at Iowa, Alabama State at Illinois, McNeese State at Michigan State and Lehigh at Minnesota.
The network also doesn't have much flexibility to schedule many of those games on Saturday right now because football is in full swing. — Alex Bozich
Filed to: Cody Zeller, Max Hoetzel, Noah Vonleh, Troy Williams, Twitter Mailbag