Announcement Primer: 2014 guard James Blackmon Jr.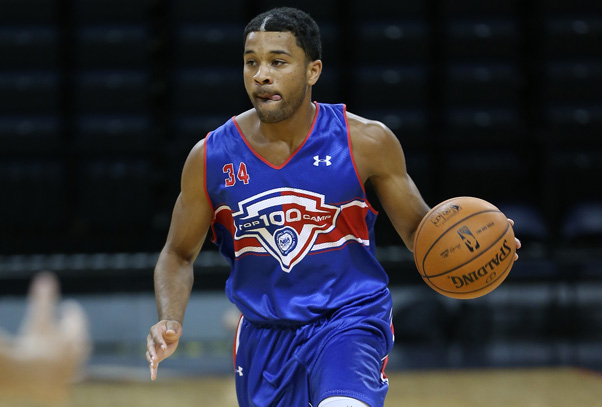 Tonight during halftime of an ESPNU college football broadcast, Indiana, Kentucky and Michigan will learn where class of 2014 guard James Blackmon Jr. will play next season. Blackmon Jr., a senior at Marion, will announce his intentions a little after 9:00 p.m. ET from a studio in Indianapolis.
Here's our primer for the announcement with everything you need to know:
The Essentials
Guard, 6-2, 175-pounds, Marion, Spiece Indy Heat
247Composite: 4-star (31); ESPN: 4-star (19); Rivals: 5-star (23); Scout: 4-star (33)
Schools: Indiana, Kansas, Kentucky, Michigan State, Michigan
Visits: Indiana, Kentucky, Michigan State, Michigan
The Primary Contenders
Officially, Blackmon Jr. has five finalists, but the three legitimate contenders are Indiana, Kentucky and Michigan. The Wildcats have been considered the team to beat since Blackmon Jr. reopened his recruitment in August, but more recently, it appears Indiana has picked up momentum. The Hoosiers received Blackmon Jr.'s final visit, an unofficial trip last weekend.
· The Indiana recruitment: Blackmon Jr. was committed to Indiana for nearly three years and the Hoosier staff continued to recruit him after he decided to look at other options. He has a very good relationship with the coaching staff and has continued to speak highly of IU even after his decision to reopen the process.
· The Kentucky recruitment: Blackmon Jr.'s father, James Sr., played at Kentucky in the 1980's and it's believed the Wildcats are trying to sell him on the idea of a quicker path to the next level.
· The Michigan recruitment: Blackmon Jr. took his first official visit to Ann Arbor and the Wolverines appeared to have some momentum earlier in the fall when they followed up that official with an in-home trip to see Blackmon Jr.
The Timing
Blackmon Jr. is very familiar with each of his options, particularly Indiana and Kentucky. The timing of the decision may be more tied to him announcing on national television than anything else.
The Fit
· At Indiana: Indiana already has Robert Johnson committed in this class, but he and Blackmon Jr. could certainly play alongside each other and give the Hoosiers two very good shooters in the backcourt.
· At Kentucky: Playing time at Kentucky seems less certain just because there's no telling which players will leave Lexington for the NBA in the spring. Point guard Tyler Ulis is already committed in the class and the Wildcats could add Devin Booker, another shooting guard, this afternoon.
· At Michigan: The Wolverines have tried to sell Blackmon Jr. on the opportunity to come in and make an immediate impact in an offense that has a fair amount of freedom and highlights perimeter shooters.
Blackmon Jr. highlights
How to follow the announcement
Tune in to ESPNU at halftime of the Louisiana-Monroe vs. Troy football game tonight (kickoff is at 7:30 p.m. ET) to hear Blackmon Jr.'s announcement.
As always, please remember this is the college decision of a high school kid. Please adhere to the comment standards that have been set forth over the past six years here on Inside the Hall regardless of the outcome.
(Photo credit: Kelly Kline/Under Armour)
Filed to: James Blackmon Jr.