Notebook: Robinson hurt in final seconds of scrimmage, Vonleh rests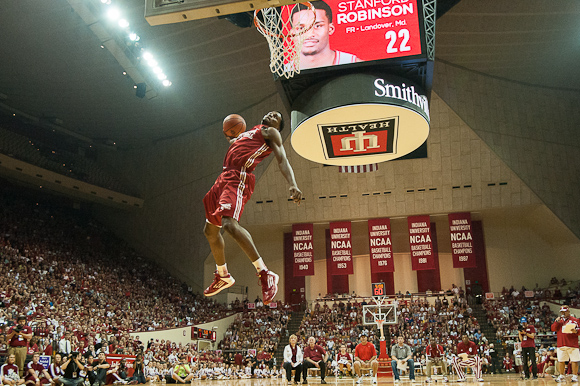 Add Stanford Robinson and Noah Vonleh to the list of injured Indiana Hoosiers.
In the waning seconds of Friday night's scrimmage at Hoosier Hysteria, Robinson went down, clutched his knee and limped off the court after a collision in the paint.  Indiana coach Tom Crean said after the scrimmage that early word is Robinson has a bruised knee.
"I say that hopefully. I say that as what was said in there," Crean said. "It looked like everything was intact and I hope that's what it continues to be. Dr. (Steve) Ahfeld was on it right away.
"He was in a lot of pain, but I mean, those hurt like that. Hopefully everything will be good there. We don't need any more guys missing time that are gonna play."
After competing in the 3-point contest earlier in the evening, Vonleh sat during the scrimmage. Crean said that Vonleh hurt his ankle during a practice on Wednesday and held him out of the scrimmage as a precaution.
"We're going to take it easy," Crean said. "He didn't go today. I mean he shot a little bit today, and he would have been in the dunk contest which would've brought a bit of fervor to that, as would've Troy, but we didn't want to risk him right now. And I don't think we will this weekend, either."
Crean also updated the statuses of freshmen Troy Williams and Luke Fischer. Williams, who sat Friday night due to an injured right hand, will return to practice next week. Fischer, who has a sprained left shoulder, is still a few weeks away from returning.
"We miss those guys," Crean said. "We miss their work ethic, their energy. We miss the athleticism."
Indiana raises 2013 Big Ten championship banner
As U2's "Where the Streets Have No Name" blared throughout Assembly Hall mid-way through Hoosier Hysteria, Indiana raised its newest banner it has to offer, celebrating the 2013 Big Ten championship.
"That was really big," Crean said. "I had not seen the banner and I hadn't seen how it was going to be raised or any of that. That was a moving moment, there's no question about that."
Moments before the banner was raised, IU showed highlights of their win at Michigan on March 10 that clinched the outright Big Ten title. With the lights to Assembly Hall still off, the spotlight shifted to the banner as it rose behind the north basket. The banner stands alone, at the moment.
"When you come in here every day like we have and like I have since April 2nd of 2008 and you look at those banners, there's no question you want to be a part of raising one of your own in the program," Crean said. "It felt great, and it felt great to be able to share it in a night like this with so many people that were here through all those days when it didn't look like we'd get a banner."
Crean elaborates on defensive communication
During Crean's "State of the Hoosier Nation" speech at the IU Auditorium Wednesday night, he called IU's defensive communication a "crisis" at the moment.
A few days later, though Crean said it is improving, it is still an ongoing issue at the moment.
"You're really fighting the human element every day when you're trying to get a team to communicate," Crean said. "And you've got to teach it, you've got to coerce it, you've got to force it, you've got to demand it. I mean, you name the adjective and you've got to have that when it comes to communication. Because you cannot win if you don't have that kind of communication. And what they'll learn is communication builds confidence. And when you're really talking on defense, it's like adding an extra defender."
Performance notes
· Senior Will Sheehey led all scorers at tonight's Hoosier Hysteria scrimmage with 13 points. Jeremy Hollowell scored 13, Evan Gordon scored 12, Peter Jurkin, Robinson and Yogi Ferrell each added 6, Hanner Mosquera-Perea added 5 and Jonny Marlin scored 4.
· Devin Davis defeated Perea in the finals of the dunk contest after he received a perfect score from a dunk after a pass from Sheehey, who was in the stands. Perea had a dunk with a perfect score, as well, when he dunked two balls, including one from a Yogi Ferrell pass off the backboard, at once.
· Ferrell won the annual 3-point contest by defeating Kaila Hulls (Jordan Hulls' sister) in the final, 17-13. Ferrell scored 18 points in the earlier round, the highest total on the night. Austin Etherington scored 16, Vonleh scored 14, Gordon scored 12 and Sheehey scored 11.
Filed to: Noah Vonleh, Stanford Robinson, Will Sheehey, Yogi Ferrell