Indiana releases additional Hoosier Hysteria details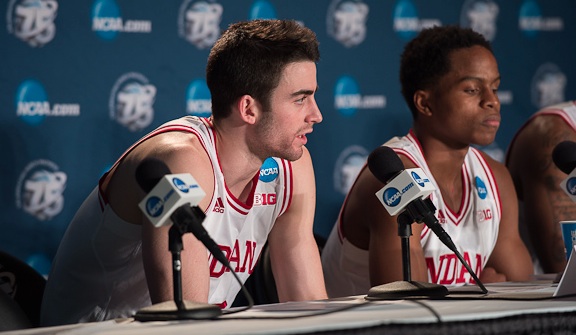 With Hoosier Hysteria set to tip off the 2013-2014 season on Friday night, Indiana released final details on the season-opening event via a press release on Thursday.
Here is the full release:
The 2013-14 college basketball season begins when Indiana University hold its annual Hoosier Hysteria presented by Smithville on Friday, October 4 in storied Assembly Hall. Doors will open at 5 p.m., with the program set to formally begin at 7:30 p.m.
– Admission is free but fans are encouraged to bring a canned food item and donate it to Hoosier Hills Food Bank. Last year, IU fans donated 12,540 pounds of food.
– Fans at home may follow the action on the Big Ten Digital Network. The cost to join is $14.95 for the month of October and includes Hoosier Hysteria and the first exhibition game against Southern Indiana. Fans may sign up at http://www.iuhoosiers.com/allaccess/.
– Beginning at 2 p.m. there will be a DJ, concessions and a video board showing highlights and games from last season on the south side outside of Assembly Hall.
– The women's basketball team will hold a practice on the Assembly Hall floor from 5:30 p.m. to 6:30 p.m.
– The video board in Assembly Hall will have highlights, games from last year and basketball themed movies as time allows. In additions, videos introducing the new members of the team will be played.
– The program begins at 7:30 p.m. with team introductions and will include women's coach Curt Miller and men's coach Tom Crean addressing the crowd to talk about this season.
– IU's Jeremy Gray and Chuck Crabb and Michael Grady (1070 the Fan) and Eddie White (Indiana Pacers) all will have prominent roles keeping the event moving.
– In the three-point contest, the men will have Kevin "Yogi" Ferrell, Evan Gordon, Will Sheehey, Austin Etherington and Collin Hartman participating. They will compete with Nicole Bell, Taylor Agler, Kaila Hulls, Tabitha Gerardot and Karlee McBride from the women's team.
– A new two-ball shooting contest will boast teams of one men's player and one women's player and includes Sasha Chaplin and Jonny Marlin, Lyndsay Leikem and Taylor Wayer, Larryn Brooks and Noah Vonleh, and Alexis Gassion and Peter Jurkin.
– The annual dunk contest this year will include Devin Davis, Jeremy Hollowell, Hanner Mosquera-Perea and Stan Robinson. Troy Williams will serve as a judge.
– Students will have a chance to win prizes by making a half court shot. In addition, students can test their knowledge of IU basketball trivia and be eligible to win a Victor Oladipo or Cody Zeller NBA jersey.
– The men's team will finish their workout with a scrimmage and Coach Crean will offer insight during play and closing remarks at the end.
-T he men's team will then sign autographs for an hour on the Assembly Hall concourse. Fans may bring in one item per person to be signed by the players. The traditional IU men's basketball calendars will be on sale that evening at the Varsity Shop or a free autograph card will be provided.
– The IU Varsity Shop and IU Athletics ticket office, located in the west lobby of Assembly Hall, will be open throughout the day. Fans are encouraged to purchase Mini-Series which will be on sale at Hoosier Hysteria. The package will include four home games highlighted by Big Ten rival Michigan State on Saturday, January 4, 2014. The package will also include tickets to the Evansville (11/26), Nicholls State (12/20) and Kennesaw State (12/22) contests.
Mini Series Ticket Pricing:
$60 – Student Mini Series (Will receive priority seating, one student per account)
$160 – Main/Court Level (Limit Four, assigned by priority points after student tickets)
$104 – Balcony Level (Limit Four, assigned by priority points after student tickets)
Filed to: Hoosier Hysteria