Notebook: Etherington set to return to the court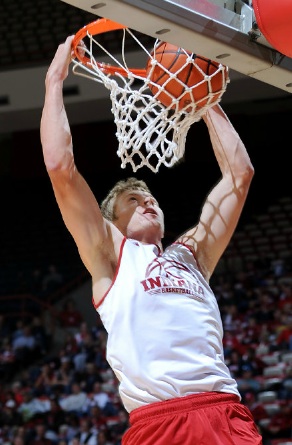 Nine and a half months ago, Austin Etherington's season ended when he suffered a broken left kneecap in the first half of a game against Central Connecticut State.
Thursday afternoon, speaking to the media only one day before Indiana's first official practice, Etherington said he is back at 100 percent and will be ready to go for the Hoosiers' opener, an exhibition against Southern Indiana on Oct. 26.
"Being out for eight months, it's weird having to watch from the side," Etherington said. "It's something you always wish you're not out for, but it's good to be back."
Etherington said he chose to take a medical redshirt, which makes him a sophomore once again this season. After his injury, which occurred while the Hoosiers were still the No. 1 team in the nation without a loss, he watched from the sidelines as his teammates earned Indiana's first outright Big Ten title since 1993.
"Just watching them play and learning the pace of the game and how they handle the situation, you learn a lot from the side," Etherington said. "Vic (Oladipo), Cody (Zeller), Christian (Watford), Jordan (Hulls) and Derek (Elston), they're all great players."
Etherington will play in front of IU's fans for the first time since his injury next Friday at Hoosier Hysteria. That experience, he said, is one that he will remember.
"It'll be really special," Etherington said. "I'm really looking forward to it. It'll be a cool thing."
Gordon ends up amongst the Hoosiers
Evan Gordon knows he has big footsteps to fill at Indiana. After all, his brother, Eric, played at IU from 2007 to 2008 and was a first-round NBA draft pick.
After transferring to the Bloomington campus from Arizona State this past offseason, the graduate senior is looking forward to his first appearance donning the Cream and Crimson.
"It's a dream come true just to get the opportunity to play here," Gordon said. "I think, overall, I'm going to enjoy the experience and take it day-by-day."
Gordon's journey to Indiana, though, came a few years later than expected. When he chose to transfer from Liberty University after his sophomore year of college, he actually wanted to come to IU, he said. However, IU did not show much interest at the time.
Choosing to go to school close to his older brother, then playing for the Los Angeles Clippers, Gordon sat one season and played one at ASU. He graduated in May with a degree in Interdisciplinary Studies (Business and Communication).
"I've been away from home for five or six years," Gordon said. "This is my sixth year away from home, but now that I'm back here, it adds a different element to it."
IU announced the addition of Gordon on May 16, and Gordon — IU's oldest player — has been training with the team since that point.
"I think everybody is pretty much a family around here," Gordon said. "We've built that environment around here and that's always been the culture around here, so I think with my family being 45 minutes away and me knowing Yogi (Ferrell) and Jeremy (Hollowell) and a couple of these guys for a long time already, I didn't have to build those new relationships again."
Other news and notes:
— The only scholarship senior who has played three seasons at IU, Will Sheehey spoke to the media Thursday and talked about his newfound leadership position on the Hoosiers' roster: "I don't put value on myself over any of my other teammates that are in here," he said. "I wouldn't say I'm the guy: I'm one of many, and it's just because I'm one of the oldest. It's funny; I get all these titles of leadership and 'the guy,' because I'm just old, but I want to make sure that everything is even and everyone can do the same."
— With Hoosier Hysteria around the corner, Ferrell hinted via his Twitter account that he might have a new hairstyle by next Friday night. He told Inside the Hall on Thursday: "I'm not giving that away until you see me coming out of the tunnel. That's when you'll see it."
— Though freshman forward Troy Williams is out with a right hand injury, he is still hopeful he can participate in the Hoosier Hysteria dunk contest. He said he would use only one hand, if necessary.
Filed to: Austin Etherington, Evan Gordon, Will Sheehey, Yogi Ferrell