2013-2014 ITH season preview: Michigan State Spartans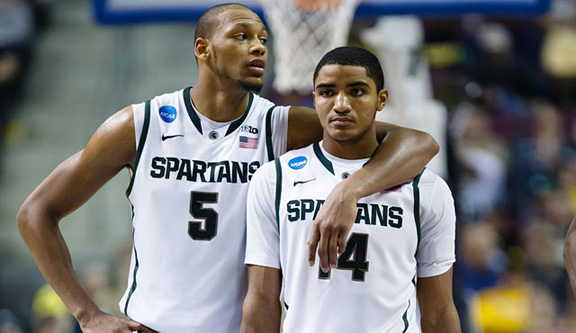 With the start of college basketball season on the horizon, we'll be taking a long look at the conference at large as well as Indiana's roster over the next month. Today, we continue our look at the Big Ten with the Michigan State Spartans.
When Michigan State coach Tom Izzo says his future team reminds him of his 2000 National Champion squad, watch out. He said just that in July to MSU's student newspaper, The State News.
In fact, heading into the 2013-2014 season, Izzo might have his best squad in East Lansing since that legendary team more than 13 years ago.
There's Gary Harris, Keith Appling and Adreian Payne, who return to comprise the Spartans' core. All three were recognized as all-Big Ten last season. Harris and Payne gave up potential first round NBA draft selections to make a run at a national championship in 2014.
Appling, a 6-foot-1 senior guard, was the Spartans' leading point-scorer and assist-leader last season and has been a pivotal part of the MSU offense in his past three years in East Lansing. He's worked to become more of a floor general this offseason. Harris, a 6-foot-4 sophomore, is the reigning Big Ten Freshman of the Year after he averaged 12.9 points per game and shot 41.1 percent from 3-point range. Payne, a 6-foot-10 senior, led the team in rebounds (7.6 per game) and overall shooting percentage (54.6), while averaging 10.5 points per game as well. In addition to Appling's experience at point guard and Harris' skill at the wing, Payne gives the Spartans a dominating post presence that few teams can even match.
Branden Dawson, who started 35 of the Spartans' 36 games last season, is back; as are rotation-regulars Denzel Valentine and Travis Trice. In other words, Izzo lured his most-talented and experienced players back to Michigan State for another year, and he added depth to go along with it.
Where Michigan State must improve before it takes its next step in competing for a national title, though, comes in the assist-turnover margin battle. MSU ranked 11th in the Big Ten last season at a -1.17 clip per game. In comparison, all of last year's Final Four participants had a positive assist-turnover margin, and three of those four teams were ranked in the top 40 in the nation. Of course, having plenty of returning pieces could help reduce that issue.
Bottom line: The 2013-2014 season has the potential to be a special one in East Lansing. Michigan State has five of its six leading scorers from a Sweet 16 squad back, and expectations are high as those returning pieces include three 2012-2013 all-Big Ten honorees. The Spartans should be able to hit the ground running both offensively and defensively, and if they are able to limit their turnovers in the most critical scenarios, a Big Ten and possible NCAA title are certainly not out of the question.
Quotable: "We have talent, we have depth, we have experience, we have the ingredients. We just have to get people back and keep them healthy. Having Appling and Trice back will certainly help. Valentine improved as the season went on and should be better as well." — Izzo to The State News in July.
Filed to: 2013-2014 Big Ten preview, Michigan State Spartans