Announcement primer: 2014 guard Robert Johnson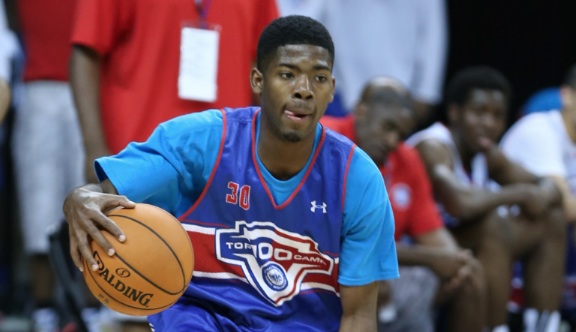 On Friday afternoon, Florida State, Indiana, North Carolina and Virginia will learn where class of 2014 guard Robert Johnson will play in college. Johnson, a senior at Benedictine College Preparatory in Richmond, Virginia, will announce his intentions at 3:30 p.m. ET in the school library.
Here's our primer for the announcement with everything you need to know:
The Essentials
Guard, 6-3, 190-pounds, Benedictine College Prep (VA), Boo Williams
247Composite: 4-star (79); ESPN: 4-star (NR); Rivals: 4-star (42); Scout: 4-star (54)
Schools: Florida State, Indiana, North Carolina, Virginia
Official visits: Indiana, Virginia, North Carolina, Florida State
The Primary Contenders
Johnson has four finalists and he's taken official visits to each school in the last month. Publicly, he's spoken positively about each experience, but most believe Indiana and North Carolina are the primary contenders with Virginia as a potential wildcard.
· The Indiana recruitment: Indiana put the full court press on Johnson in July after his performance at the Peach Jam. Kenny Johnson has known the family dating back to his tenure at Towson as an assistant coach. Following his official visit to Indiana, Johnson said the experience was one of the best of his life and also admitted that he nearly made a commitment while in Bloomington.
· The North Carolina recruitment: North Carolina offered Johnson about two weeks after Indiana and has pitched him on an opportunity for playing time from day one in a 2014 class that already includes Justin Jackson, Theo Pinson and Joel Berry. The Tar Heels are a little more crowded than Indiana on the guard depth chart and it's unlikely Johnson would play much point guard in Chapel Hill with Marcus Paige, Nate Britt and Berry in the fold.
· The Virginia recruitment: The "home" school, Johnson lives about 70 miles from Virginia's campus in Charlottesville, so if distance is a factor, the Cavaliers could be appealing. What's not clear is how Johnson, who has said he prefers an up tempo system would fit into Virginia's style of play, which is one of the slowest in all of college basketball.
The Timing
After his official visit to Indiana, Johnson opted to speed up the process and reach a decision sooner rather than later. In fact, he was originally considering an official visit to North Carolina for their opening practice in October, but has now completed all four campus trips in less than a month.
The family has done its due diligence with the recruiting process, but this recruitment really took off in a hurry and Johnson told The Richmond Times-Dispatch this week that he was "ready to wrap it up."
The Fit
· At Indiana: Johnson would likely get the opportunity to play both guard spots in the most up tempo system in the Big Ten. Beyond Yogi Ferrell and Stanford Robinson, the Hoosiers don't have another scholarship player on next year's roster that you'd consider exclusively a guard.
· At North Carolina: The Tar Heels play an even more up tempo pace and could likely find minutes for Johnson as a shooter, which is a strong suit of his game. As stated earlier, the Tar Heels will likely have three point guards on next year's roster in Paige, Britt and Berry. The two-guard spot is less certain depending on what happens with P.J. Hairston.
· At Virginia: The Cavaliers play at a style that compares to Wisconsin and have a four-star guard committed in the 2014 class in B.J. Stith, who is reportedly a friend of Johnson's. They've also got two freshman point guards who arrive this season and two other guards in Malcolm Brogdon and Justin Anderson who are currently underclassmen.
Johnson highlights
How to follow the announcement 
We'll have a reporter on site gathering reaction and will also have a quick story posted as soon as the announcement is made.
Additionally, below are some Twitter accounts to montior and we'll also be sure to add any video streams if they become available between now and tomorrow.
ITH | Clint Jackson | Inside Carolina | Eric Kolenich 

In closing, please remember this is the college decision of a high school kid. Please adhere to the comment standards that have been set forth over the past six years here on Inside the Hall regardless of the outcome.
(Photo credit: Kelly Kline/Under Armour)
Filed to: Robert Johnson