Consistency key in IU's pursuit of Robert Johnson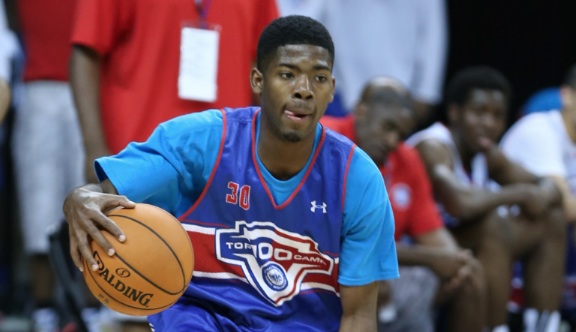 Victor Oladipo was an All-American in his junior season at Indiana and the No. 2 pick in June's NBA Draft. His meteoric rise was one of the stories of college basketball a season ago.
So when Oladipo returned to Bloomington a couple of weekends ago to host Tom Crean's Basketball ProCamp, it was perfect timing for Indiana, which was in the midst of a huge recruiting weekend. One of the major guests was Robert Johnson, who was making his first official visit and receiving his first up close look at a program that has pursued him relentlessly for months.
Oladipo's message to Johnson, a late riser from Richmond (Va.) in the class of 2014, was straightforward according to his father, Robert Sr.
"Victor talked to Robert and I met with him and talked with him," Johnson Sr. told Inside the Hall. "He just told Robert how Indiana is a great school and gave him his blessing that if he decides to go there, he can wear No. 4."
One of the themes of IU's pursuit of Johnson, who is still considering six schools, has been consistency. The family has known assistant coach and recruiting coordinator Kenny Johnson for a couple of years and the IU coaching staff has been diligent in making sure Johnson knows he's a priority.
"He really likes coach (Tom) Crean, coach Kenny (Johnson) and the relationship he's built with them," Johnson Sr. "And the consistency with the way they've been. They haven't wavered with the information on telling him how he'll fit in the program and how much they need him. He was able to see it. They showed him some footage of Victor when he was a freshman and sophomore and then as a junior and how he developed into the player he is now."
Prior to the visit to Bloomington, Johnson Sr. told Inside the Hall that he had several pieces of criteria that he would look for on all of the family's visits this fall.
Besides the basketball piece, Johnson Sr. wanted to learn more about the education, culture and environment of each prospective school. The Indiana visit, according to Johnson Sr., answered a lot of questions.
"I think they have guys who really want to compete and get better and take the program to another level. The education piece is also great," he said. "They have their own person in academics (Marni Mooney) who is with the team, they meet with her and nothing falls through the cracks. That's the part that I really, really like.
"Seeing the culture, the environment, the other guys on the team and how Robert would fit in as far as personalities and characteristics of how they carry themselves as young men. I think everything was pretty good. He was able to play with them and run with the team so he could kind of see how he would fit in with them."
The Indiana visit was followed by an official trip to Virginia last weekend. North Carolina is up next this weekend and Florida State later in the month. The family is also talking to Georgetown about a visit next month and is still hearing from Pittsburgh.
Johnson, who said in mid-August that he could make a decision on a visit, now appears committed to seeing the process through. According to this father, Johnson doesn't have a firm timetable on when he'll make an announcement.
"I really can't put a timetable on it except that he wants to do it before the season starts. I sat down and told him that this process is going to be harder than cutting your list," Johnson Sr. said.
One thing that's helped Johnson become more comfortable with Indiana is his relationship with IU freshman Troy Williams and his uncle, Boo, who coached him last spring and summer in AAU.
"They were like 10 years old playing against each other in AAU," Johnson Sr. said. "Robert playing with Troy's uncle (Boo) this year has really strengthened Robert and Troy's relationship."
Ultimately, Johnson Sr. believes his son has a great set of finalists to choose from, which will make his decision tough when the time comes to make the call.
"The hardest part for him is, he picked six schools where they all are well coached, they're good programs as far as education and they compete at the highest level," Johnson Sr. said. "And now it's breaking it down and seeing where he fits in, style of play, environment, culture, those pieces, tying it together. How quick he might be able to play, are they recruiting anybody else in the other classes at his position, just researching all of that stuff."
(Photo credit: Kelly Kline/Under Armour)
Filed to: Robert Johnson