Big Ten's Top 25 Players: 10-6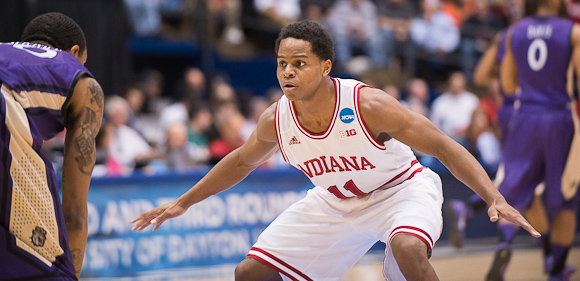 With the official start of practice less than four weeks away, Inside the Hall and UM Hoops have partnered to bring you a preseason breakdown of the top 25 players in the Big Ten for the 2013-2014 season.
Our selection process involved much deliberation to arrive at a list that we hope will provide plenty of reaction and debate. The series will be broken into five parts (25-21, 20-16, 15-11) and our third installment of players 10-6 is available below:
10. Yogi Ferrell, Indiana (6-foot-0, guard, sophomore)
28.1 mpg, 7.5 ppg, 4.1 apg, 2.8 rpg, .8 spg, 45.3 eFG percentage
Ferrell's freshman stats may not warrant a spot in the top ten, but his placement is based on a potential role shift and increased production as a sophomore. Ferrell started every game at point guard last season for Indiana and helped lead the Hoosiers to their first outright league championship in 20 years. His role, however, was mostly a distributor (25.7 assist rate) who was asked to fit into a team with an already established rotation. With seven players moving on from last season's team, Ferrell, a former McDonald's All-American, is now Indiana's second most tenured player in terms of minutes played in Bloomington and is expected to take on a much larger offensive role. After a summer where he averaged double figures for the USA in the World University Games, look for a more confident and experienced Ferrell to make a major leap forward as a sophomore.
9. Andre Hollins, Minnesota (6-foot-1, guard, junior)
30.1 mpg, 14.6 ppg, 3.7 rpg, 3.4 apg, 1.1 spg, 52.7 eFG percentage
If first-year head coach Richard Pitino has any chance of keeping the Golden Gophers out of the bottom third of the Big Ten standings, he'll need Hollins to build on a terrific sophomore campaign. Offensively, there wasn't much that Hollins didn't do well last season. He shot nearly 42 percent on 3-pointers, drew 4.5 fouls per 40 minutes, posted an assist rate of 25.3 percent and among Big Ten players that used at least 25 percent of their team's possessions, his offensive rating ranked below only two players: Trey Burke and Cody Zeller. With Trevor Mbakwe and Rodney Williams moving on, the Golden Gophers are likely to become more perimeter oriented in 2013-2014 and Hollins will be the clear cut go-to guy in Minneapolis.
8. Aaron White, Iowa (6-foot-9, forward, junior)
29.2 mpg, 12.8 ppg, 6.2 rpg, 1.3 apg, 1.1 spg, 49.3 eFG percentage
White's name doesn't come up much nationally, but he's quietly built a reputation as one of the Big Ten's best frontcourt players over his first two seasons in Iowa City. As a sophomore, he got to the free throw line at a ridiculous clip as he attempted 258 shots from the line and had a free throw rate of 86.3, the best of any Big Ten player. He was also one of just four Big Ten players to average at least 12.8 points and 6.2 rebounds, joining Zeller, Victor Oladipo and Deshaun Thomas. White shot close to 54 percent on 2-point field goals and was in the top 20 in the conference in offensive rebounding percentage. The next step in his development is improving his perimeter game. White took nearly two 3-pointers per game last season, but hit just 22.7 percent. Iowa finally looks poised to return to the NCAA tournament this season and White is a centerpiece of Iowa's resurgence under Fran McCaffery.
7. Tim Frazier, Penn State (6-foot-1, guard, redshirt senior)
32.5 mpg, 16.3 ppg, 4.5 rpg, 3.8 apg, 2.3 spg, 38.1 eFG percentage (4 GP)
Frazier had his 2012-13 campaign derailed just four games in due to a ruptured Achilles tendon and his absence was a big reason the Nittany Lions won just two Big Ten games and finished in the conference cellar. Efficiency has never been a strong suit of Frazier's game, but his overall production earns him this position in the top ten. In his last full season, Frazier posted a ridiculous assist rate of 45.2 (second nationally) while also averaging 18.8 points, 4.7 rebounds and 2.7 steals per game. Those 2.7 steals per game were good for a steal rate of 4.0, second in the Big Ten to only Aaron Craft of Ohio State for the 2011-12 season. Now surrounded by more talent like D.J. Newbill and a frontcourt with some experience under its belt, Frazier will no longer be called on to do everything for Pat Chambers.
6. Sam Dekker, Wisconsin (6-foot-7, forward, sophomore)
22.3 mpg, 9.6 ppg, 3.4 rpg, 1.3 apg, .7 spg, 57.9 eFG percentage
Newcomers typically don't see much of the floor in Madison, but Dekker was an exception as he became one of just four true freshmen to start a game under Bo Ryan. With Ryan Evans no longer an obstacle to a permanent spot in the lineup, Dekker looks poised for an All-Big Ten type of season. Dekker's elite athleticism, motor and ability to shoot from the perimeter make him one of the more exciting players to watch in the league, which is atypical from many of the past frontcourt guys who have played at Wisconsin under Ryan. As a freshman, he shot nearly 40 percent on 3-pointers and posted an offensive rating of 116.7, the highest mark among regulars in Wisconsin's rotation. With more minutes coming his way and a year of experience, Dekker, clearly the most talented piece on Wisconsin's roster, looks ready to break out.
Filed to: 2013-2014 Big Ten preview, Yogi Ferrell