2016 G Tyus Battle 'not in a rush' with his recruitment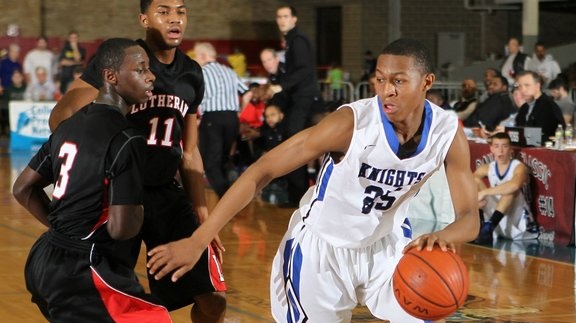 Tyus Battle has visited Indiana twice already this year, most recently arriving in Bloomington last Tuesday and leaving last Friday afternoon. The Gill St. Bernard's (N.J.) sophomore shooting guard told Inside the Hall after his most recent visit that the Hoosiers are "definitely one of the leaders. Indiana is probably recruiting me the hardest right now, too."
But that doesn't mean he is close to a decision. As his father, Gary, noted, Tyus "is not in a rush to grow up."
"He is truly 15. He plays video games, he hangs out with his friends, and he really likes doing those things," Gary Battle said. "As a family, we really expect him to develop and grow up, but at the same time, we like who he is. I think that sort of makes him unique. I think a lot of kids grow up a little too fast."
As much as Gary Battle likes to think of his son as a typical high school sophomore, Tyus Battle is not.
Regarded as a five-star prospect and the No. 7 overall recruit in the 2016 class, according to ESPN.com, Battle's recruitment has taken off. Indiana offered him a scholarship in February when he visited for the Hoosiers' game against then-No. 1 Michigan on ESPN's College GameDay. The 6-foot-5 guard also holds offers from Ohio State, Miami (FL), Connecticut and Villanova, among others.
Since he has garnered so much interest and is in no rush to make a decision, his family has been open to taking as many visits as possible. Battle has plans for trips to Michigan (Sept. 7) and Ohio State (Sept. 21), and he also expects to take visits to Syracuse and Villanova, though those dates aren't planned yet.
"He really likes hanging out with his family, which is why it's important for us to get out see these schools a little bit farther away," Gary Battle said. "He seems to be pretty comfortable with leaving home, so I don't think that's going to be an issue for him."
In the Battle's three-day visit to Bloomington last week, Gary said they got a "pretty good feel" for how Indiana runs things and how Tyus would fit into the Hoosiers' system of play.
One thing that stood out, Gary thought, was watching the Hoosiers' workouts and how Indiana coach Tom Crean and his staff communicated with the players.
"It's very clear and concise. They really put a lot of emphasis on skill development, and everybody gets better every year," Gary Battle said. "It's pretty impressive. I really like that. They work really hard on the weights, and obviously, the conditioning stands out."
Tyus also got the chance to experience potential life as a Hoosier. He attended the Indiana football game Thursday night, toured campus and visited the Kelley School of Business, a potential school he is interested in attending.
He also got to play with current Hoosiers in multiple pick-up games, teaming up with potential starters Noah Vonleh and Yogi Ferrell.
"(Tyus) did pretty well in the pick-up games. They were pretty competitive, and he was pretty happy with the way he played," Gary Battle said. "On Friday, we got the chance to look at some film and stuff like that, and we spent more time with coach Crean. I talked with coach Crean, myself, and then we took off.
"It was definitely a great visit. It was very in-depth, and we got a lot of information. I could absolutely see Tyus playing for him."
As far as a return trip to Bloomington goes, the family did not rule out a visit for a game this season. Though a decision might be far in the future, the Hoosiers and Tyus Battle have reciprocated interest in the early stages of his recruitment.
"He likes (Indiana). He likes it a lot, but it's too early in the process," Gary Battle said. "We've still got a couple of years to look at other schools and do whatever he's going to do, but he likes it a lot."
Filed to: Tyus Battle