A closer look at Indiana's non-conference schedule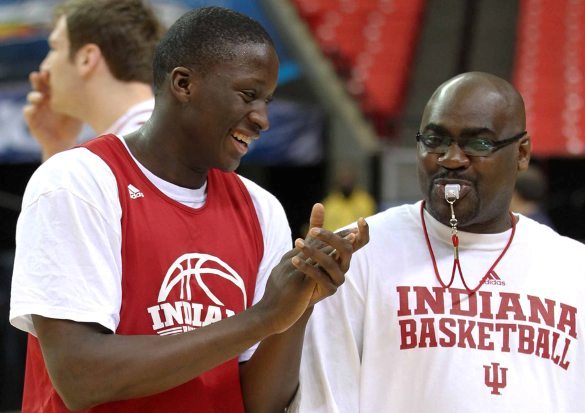 In case you missed it, Indiana announced its entire 2013-2014 schedule on Thursday afternoon, including its 13-game non-conference slate.
Now that we know each opponent, here's a deeper dive into what the Hoosiers will face before the start of Big Ten play:
· Back to the Big Apple: For the second year in a row and the third time in the Tom Crean era, Indiana will travel to New York in the non-conference. Last season, Indiana won the Progressive Legends Classic at the Barclays Center in Brooklyn, N.Y., by topping Georgia, 66-53, and Georgetown, 82-72 (OT). This November, the Hoosiers will play Washington and either Connecticut or Boston College on back-to-back nights at Madison Square Garden in the 2K Sports Classic. IU's opponent in their first game at MSG since Crean's second season, Washington, lost in the first round of the NIT last season, but adds McDonald's All-American point guard Nigel Williams-Goss this year.
· No marquee non-conference home game: Indiana will play nine of its 13 non-conference games at Assembly Hall, and not one will be against a team from a major conference. The only home non-conference opponent Indiana will face that made the NCAA tournament last season will be LIU Brooklyn, a team that lost in the opening round to eventual IU opponent James Madison. Stony Brook, who IU will play Nov. 17, won the America East regular-season title last year, but lost to Albany in the conference tournament semifinals and to Iowa in the second round of the NIT. IU's home non-conference opponents were a combined 129-164 last season, including a 3-27 Kennesaw State team.
· Seltzer returns to Bloomington: Mark it in your calendars: On Nov. 15, former Indiana assistant Bennie Seltzer will make a visit to Assembly Hall — this time as the head coach of the Samford Bulldogs for the first meeting in the history of both schools. Seltzer was a Crean assistant from 2006 to 2012, moving from Marquette to IU after Crean took the head coaching job in Bloomington in 2008. His Bulldogs were 11-21 last season but were 9-9 in Southern Conference play.
· A "Sweet" Rematch: Indiana fans — whether they want to or not — remember the result. On March 28 in the 2013 NCAA tournament's "Sweet 16," Syracuse, a 4-seed, ended IU's season with a 61-50 victory, holding the Hoosiers to a season-low in points and forcing a season-high 19 turnovers. More than eight months later, on Dec. 3, the teams will meet again, this time in Syracuse, N.Y., for the Big Ten/ACC Challenge. A couple of the top story lines heading into the matchup include former Indiana commit and Syracuse freshman Ron Patterson facing his once-future teammates and how IU will attack the Syracuse's 2-3 zone defense.
· Guarantee/non-guarantee mix: Eight of the 13 non-conference games are classified as "guarantee" games for Indiana, which means the opponent will come to Assembly Hall without the promise of a return game. Indiana had nine such games on last year's schedule.
· Other notes: Indiana has not lost a season-opener since the 1997-1998 season. Chicago State, who will be the opening-game opponent, finished last season 11-22. IU is 2-0 all-time against the Cougars, last beating them by a 97-59 score on Dec. 29, 2007. Chicago State has eight seniors on a 10-man roster. … Of Indiana's potential non-conference opponents ranked in the ESPN.com preseason top 25, Syracuse is No. 8 and UConn is No. 23. IU is ranked No. 20. … The Hoosiers have never faced five of the programs on the non-conference schedule (LIU Brooklyn, Samford, North Florida, Oakland and Kennesaw State). … For the second straight year, Indiana will play its entire non-conference schedule in two states: Indiana and New York.
Filed to: 2013-2014 schedule, Bennie Seltzer, Syracuse Orange