Indiana only scheduled visit for 2014 guard Robert Johnson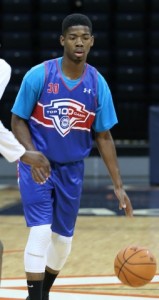 Robert Johnson will take an official visit to Bloomington the weekend of Aug. 24, his only scheduled official visit at this point.
It was reported earlier in the week that Johnson would also take a visit to Pittsburgh, but he later shot that down on Twitter and his dad confirmed that no visit has been schedule there, though they are talking to Pitt coach Jamie Dixon.
Robert Johnson Sr. said his son has talked with Virginia about taking an official visit the weekend of Sept. 6-7.
The decommitment of James Blackmon Jr. last week could be a factor for Johnson, who plays a similar role. I asked his father what Johnson's reaction was when Blackmon Jr. announced he would reopen his recruitment.
"He did hear that news," Johnson Sr. said. "That doesn't really change his process. Of course he hopes James ends up back there at Indiana because he feels James is a great player and they complement each other well. Although, they are both good shooters.
"I think Rob has probably handled the ball a little more than James, James likes to play off the ball, but they are similar players."
Johnson Sr. said his son wants to make a college decision before his high school season begins in November.
If Indiana impresses him away on his visit later this month, there's a pretty good chance that could be the only visit he takes.
"It could be a situation where he takes one, two or three visits and says, 'You know what, I've seen enough. I know where I wanna play,'" Johnson Sr. said. "Indiana is one of those schools he really, really, really likes. We've been talking to coach Crean and coach Johnson a lot, and those conversations are always good."
Filed to: Robert Johnson