2014 guard Isaiah Whitehead planning official visit to Indiana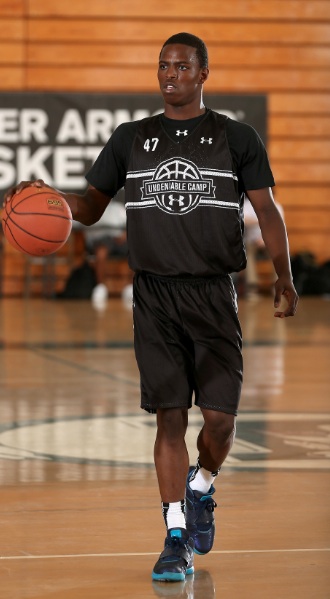 Last year, Indiana got in the game late on highly-touted recruit Troy Williams and eventually got him to commit by making a strong impression on him.
It looks like Tom Crean and his staff may be doing that again.
Just over 24 hours after 2014 guard James Blackmon Jr. decommited from the Hoosiers, Indiana reached out to Brooklyn, N.Y. guard Isaiah Whitehead to take his place. Whitehead, ranked 35th in the 2014 class by ESPN.com, is just 10 spots lower than Blackmon Jr.
Whitehead attends Abraham Lincoln High School, the same school that produced NBA guards Stephon Marbury and Lance Stephenson.
Whitehead told Inside the Hall on Saturday that he hadn't heard from Indiana until Friday night, but that it was an offer he would strongly consider. Whitehead's conversation with Crean lasted nearly an hour, and Crean told Whitehead he knows he's had a "big summer."
"It means a lot," Whitehead said. "Indiana is a legendary program with a great coach in Crean. You never can overlook them.
"They have no guard play coming in next year. That was Blackmon's spot to play the guard spot."
Whitehead said he plans to take an official visit to Indiana in September, along with UCLA, Syracuse, Arizona and Miami. Whitehead has not yet taken any official visits.
Whitehead hopes to finish his officials in September and October and then make his college decision in November. The early signing period begins on November 13.
"I have good interest in them," Whitehead said of Indiana. "There's really no top schools but I'm definitely considering them hard."
Whitehead had a strong summer in various AAU events, and has gotten late interest from a number of schools. His assistant coach at Lincoln High, James Barrett, said getting in late won't negatively effect Indiana.
"Isaiah just wants to go somewhere where he has a good opportunity to be a pro," Barrett told Inside the Hall. "There's a lot of schools that have been contacting him late. He's gonna go with the best opportunity to be a pro. Distance doesn't really matter."
Whitehead, a 6-foot-4, 195-pound combo guard, said he plans to play both guard positions at the college level.
"I'm an all around player, do everything," Whitehead said. "I'm trying to improve my handle a little."
Barrett sees Whitehead playing mostly point guard at the collegiate level.
"He's more so a point guard than he is a shooting guard," Barrett said. "He's a point guard who can really score the ball."
During the high school postseason, Barrett devised a game plan that required Whitehead to be more of a distributor than a passer. In that particular game, Whitehead scored only 12 points, but the team won.
"He's willing to do whatever it takes to win," Barrett said. "His shooting has gotten a lot better. He's consistently hitting a jumper from NBA range. And he's strong, he's strong getting to the basket. That's always been a strength of his."
(Photo credit: Under Armour/Kelly Kline)
Filed to: Isaiah Whitehead