Blackmon Jr. explains decision to reopen process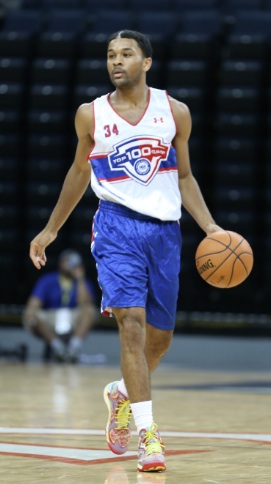 Nearly 36 months after making a commitment to Indiana, class of 2014 guard James Blackmon Jr. was no longer certain that Bloomington was where he wanted to be for college.
So rather than living with doubt in his mind, Blackmon Jr. decided to re-open the recruiting process on Thursday.
His commitment to Indiana in the fall of 2010 came before he ever played a high school game and also after the Hoosiers had won just 16 games in two seasons under Tom Crean.
At the time, many questioned whether the commitment would stick, especially with more than three years until Blackmon Jr. could sign a National Letter of Intent.
In an interview with Inside the Hall, the Marion guard explained his decision to explore other options.
"Just having something to compare Indiana to. I've been committed so long that I haven't really seen any other college," Blackmon Jr. said. "Indiana is at the top of my list. I still like Indiana. I wouldn't be surprised if I end back up at Indiana.
"I just want to know that it is the right choice and have no doubt and be excited about my decision so if I commit back, it'll be because I'm excited about going there and just not having any doubt with it."
As the No. 25 player in the ESPNU 100, Blackmon Jr. will have plenty of interest from across the country and Indiana is still expected to recruit him.
"I talked to Coach Crean and he still wants me to be there and he still wants to coach me," he said. "He's a great coach and nothing went wrong with the coaches, they didn't do anything wrong. I just want to reassure myself and have something to compare it to."
Blackmon Jr. also says he doesn't regret his decision to commit early despite opening things back up this late in the process.
He was 15 years old when he committed to Indiana on September 3, 2010. Trey Lyles also committed to Indiana in September of 2010 before reopening the recruiting process in August of 2012.
"I still feel like that was the right thing to do because I knew that it was the place I wanted to go," Blackmon Jr. said. "But having doubt in your mind, I don't want to have that with choosing a college."
The next step in the process, according to Blackmon Jr., will be taking a look at which schools express interest and then making a plan to proceed from there.
"I think just seeing who recruits me and how that goes, " he said. "I'm not really choosing a top five, six or anything like that. I'm just going to see who all is out there and trim it down. IU will definitely be in the top of that."
(Photo credit: Kelly Kline/Under Armour)
Filed to: James Blackmon Jr.