2014 big man Michael Humphrey trims list to 13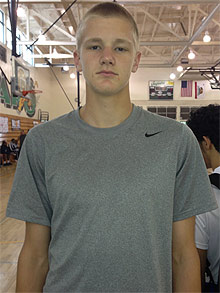 Michael Humphrey, a 2014 big man from Phoenix, Ariz., announced on Thursday that he has trimmed his list to 13 schools.
The schools included for the 6-foot-10 center, in no particular order, are: Arizona State, Columbia, Grand Canyon, Indiana, Stanford, UCLA, Arizona, California, Louisville, Notre Dame, Oregon, Virginia and Vanderbilt.
"I wanted to narrow down my list to a reasonable number before school started," Humphrey told Inside the Hall. "The schools left on the list are some of the ones that I really enjoy talking to and have great interest in."
Humphrey told Inside the Hall he has already taken unofficial visits to Arizona State, Grand Canyon (a local university in Phoenix) and Arizona. He said he plans to cut his list down to five, probably by the end of the month, and then take official visits from there in September and October.
That timetable could get tricky at times considering Humphrey is also a quarterback for his school's football team, but he said he is determined to make an early decision in November.
"I want to have time to talk to all of these coaches and then go from there," Humphrey said.
A source close to Humphrey told Inside the Hall that Indiana and Louisville are Humphrey's top two schools at this point in the process and both are likely to get official visits this fall.
Filed to: Michael Humphrey