Class of 2015 forward Alex Illikainen talks IU offer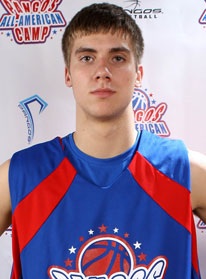 One of the top rising juniors in Minnesota, Alex Illikainen, is one of the latest prospects to receive a scholarship offer from Indiana.
Illikainen, a 6-foot-9, 210 pound forward from Grand Rapids, put together a strong spring and summer for the Minnesota Cyclones and is now squarely on IU's recruiting radar for the class of 2015.
"I'd heard from Indiana probably at the beginning of the spring, the first couple of tournaments of AAU," Illikainen told Inside the Hall. "I talked to Coach (Tim) Buckley. And then after the final July period was done, I started talking to Coach (Tom) Crean and he called me, we had a nice conversation, talked a lot about my game and what Indiana is like, the tradition there. And then he offered me a scholarship."
The versatile forward has offers from Oregon, Minnesota, Texas Tech, California, Creighton, Nebraska, Northern Iowa, North Dakota State and Wisconsin Green Bay, but the Indiana offer clearly caught his attention.
"It's a great place to go to school," he said. "I want to go down and visit and just see what it's like down there. Great tradition. And then it's a great school academically. They also play in the Big Ten."
As a sophomore, Illikainen averaged 27 points, 15.2 rebounds, 3.5 blocks and 2.5 assists per game at Grand Rapids. He has three older sisters and two of them play college hockey.
The primary strength of his game is around the basket, but in college, he hopes to be able to play either forward spot.
"I've been working on a lot on my perimeter jump shot and my 3-point shot, dribbling, ball handling, that kind of stuff," Illikainen said. "My goal is to be able to play both (the three and the four)."
To help him achieve that versatility, Illikainen watches a wide variety of college players to pick up different things to implement into his game. Among them: former IU center Cody Zeller, Creighton's Doug McDermott and Wisconsin's Sam Dekker.
"I love how aggressive Zeller is," he said. "He's always going after the boards, going strong and never doing anything soft."
Illikainen, who can begin taking official visits on January 1, 2014, said he could visit Bloomington as early as this fall.
"We're going to try to find some dates either in the fall or the winter," Illikainen said. "But I'm definitely going to get down there.
Filed to: Alex Illikainen