Hulls, Elston prepare to travel overseas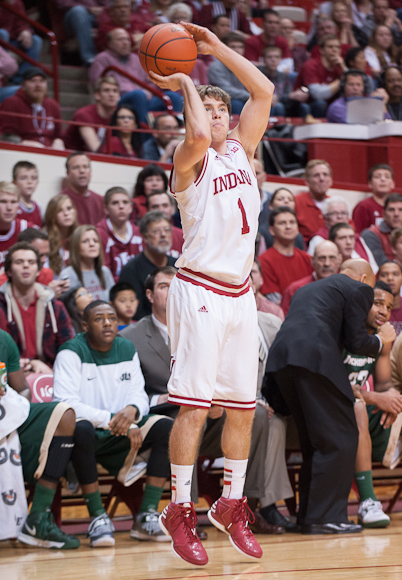 INDIANAPOLIS — It was all fun and games Thursday night at Cardinal Ritter High School. An Indiana alumni team consisting of Jordan Hulls, D.J. White and others played a Purdue alumni club made up of JaJuan Johnson, David Teague, among others.
The pace was fast, the defense was non-existent, and the result, meaningless.
Well, maybe not for Hulls.
The former Indiana guard missed four consecutive jump shots down the stretch, allowing Purdue to sneak away with a 110-106 win before a capacity crowd.
After shaking hands with his teammates and flashing a mostly obligatory smile, Hulls retrieved the game ball, and continued to shoot 3-pointers before another one went in.
Not much has changed for Hulls.
"I was like, 'Really, Jordan?,'" his mother, Joni, said afterward.
For Hulls and teammate Derek Elston, Thursday night was the last fun exhibition game before life in the real world begins. Both have signed professional contracts overseas — Hulls in Poland and Elston in Malta — and will depart in August (Hulls) or September (Elston).
"I'm not counting down the days," Hulls said. "It's a business now so you have to take care of your business, make sure you're in shape, getting workouts in. Go over there and enjoy it, but be prepared for whatever happens because it's a little bit different than what we're used to."
The recently-engaged Hulls admitted heading to Poland will make planning a wedding a little more difficult. He will leave the United States on Aug. 18, and his fiancé won't be going with him.
"She'll probably visit me a couple times through the year," Hulls said. "We'll make it work."
Elston doesn't have a fiancé to worry about, but he will face similar challenges in Malta. The former Indiana forward has spent a lot of time since the season working on his jump shot, and it looked quite good on Thursday night. The Tipton native made a number of deep 3-pointers against the Purdue alums.
When his collegiate season ended in March, Elston employed a number of people to scour the international countries in search of a professional basketball contract for him.
"I had a bunch of people working for me, but whenever I had spare time, I would send out some of my highlight videos, put them on YouTube, Facebook," Elston said.
Several teams showed interest, including ones in Israel (where Christian Watford signed) and Sweden, but he ultimately offered to play for Floriana in Malta.
"I had an Israel deal, I had a Sweden deal, and when they really didn't put any paper in front of me, this team did," Elston said. "I decided to go with them just because they showed so much interest."
Ever since signing late last month, Elston said he's spent a lot of time on his email and Facebook connecting with his future teammates. Floriana won the league title for the first time last season, and it features former University of Vermont forward Matt Glass.
"I don't really know how the game is played over there, I don't really know what the team is like, necessarily," Elston admitted.
There is one thing Elston does know, however.
"I hear the women are beautiful, so there you go," he said. "It doesn't matter what the weather's like."
In addition to Hulls and Elston, Victor Oladipo (Orlando Magic), Cody Zeller (Charlotte Bobcats) and Watford (Israel) have signed professional contracts for next year.
"It just shows how far along IU's come," Elston said. "For everybody that was there that stayed, the seniors, we're all playing professional basketball. That just shows that IU's back, honestly. We had a really talented team."
Filed to: Derek Elston, Jordan Hulls