Indiana has sold 14,500 student season tickets for 2013-2014 season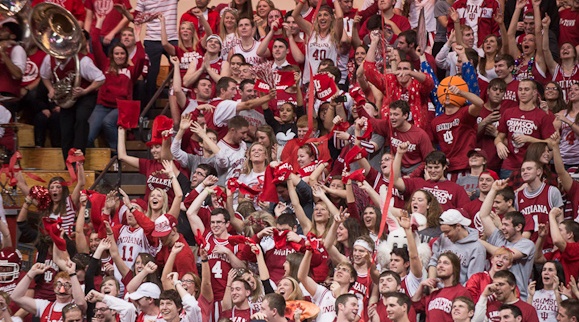 Update: A previous edition of this story said Indiana had sold 15,500 student season tickets for the 2013-14 season. Fred Glass gave us that number on Tuesday night, but after checking the records, indicated later that the number is actually closer to 14,500 at this point.
—
When Fred Glass was hired as Indiana's Athletics Director in 2008 and began his tenure in early 2009, he tried everything he could to get students to buy basketball season tickets. The number of students he could put in the stands at the time was right around 4,000.
Fast forward to now, fresh off a Big Ten regular season title and second straight trip to the Sweet Sixteen, and Glass is facing a different problem entirely. The demand of student tickets has increased close to the level of Glass' days on campus, and his plan is to just keep selling them.
Glass told Inside the Hall on Tuesday night that 14,500 student season tickets have been sold for the 2013-2014 season. The student section has a capacity of 7800, and as of right now, each student with season tickets will get to attend eight games.
If that number continues to grow significantly, however, students may get even fewer than eight games, though Glass said he "doubts" that will happen.
"Traditionally, IU has oversold the basketball seats," Glass said. "When I was on campus, it wasn't unusual to sell 17,000 or 18,000 tickets and then you got a subset of the total package. So if they solid twice as many tickets as they had seats, you got half the games and so forth.
"Basically your choice is to let a limited number of kids, 7800, go to every game, or let a vastly larger number of students have the opportunity to go to games, although not every game. From my perspective, the right thing to do is to give more kids an opportunity to go to the games, even if it's not every game."
Glass said the athletic department will continue to sell student tickets until shortly before the season begins in November. Indiana sold around 12,000 student season tickets last season.
Filed to: Fred Glass