Notes from Dante Exum's performance in FIBA U19 quarterfinals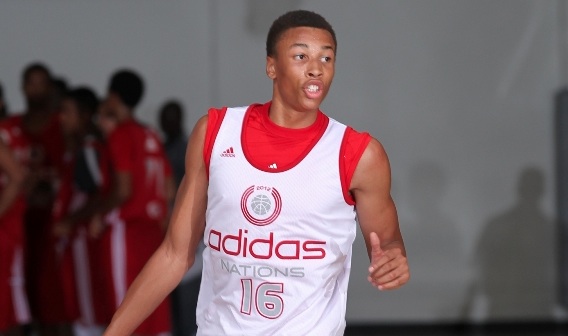 Class of 2014 guard Dante Exum led Australia past Spain, 87-76, in the quarterfinals of the FIBA U19 World Championships on Friday in Prague, Czech Republic.
The 6-foot-5, 195 pound guard, who took an official visit to Indiana in January, finished with 33 points, five rebounds, four assists and four steals.
Here are a few observations from the game, which was broadcast live on ESPN3.com:
— Spain came into the game 5-1 and the clear favorite, but had no answer for Exum. The combo guard was 9-of-18 from the field and 12-of-13 from the foul line and made some huge plays down the stretch as a 24-point lead for Australia crumbled all the way down to six in the game's closing minutes.
— Exum set the tone early on as he opened the scoring with a 3-pointer just 27 seconds into the game and had 10 first quarter points. I counted that he was fouled a total of six times in the first quarter and in most of those instances, Spain simply could not stay in front of Exum. He came into the game just 17 of 28 from the foul line through six games, but was automatic on Friday. European Prospects reported that Exum was fouled 18 times in the game.
— Defensively, Exum's length helped him get his hands on a lot of balls for deflections that either led to steals or heavily disrupted Spain's efforts to get into its offense. The five steals tied Spain's Alberto Diaz for a game-high. And when Exum was successful in picking off passes, he got into transition quickly and either finished plays at the other end, set up a teammate or drew a foul.
— One of the more impressive offensive moves Exum made came at the beginning of the second half, in which he scored 20 points. He took a pass on the right wing, pump faked just outside of the 3-point line and made one explosive dribble to about 18-feet and knocked in a jumper. That bucket pushed Australia's lead to 47-31.
— Another key play that gave the Australians confidence in the first half came at the 4:23 mark of the second quarter. With a 33-22 lead, Exum went past three guys in transition, was fouled as he went toward the basket and finished through solid contact. He landed awkwardly into a sign on the front of a bench sitting on the baseline, but got up and knocked in a free throw to complete the 3-point play.
— There were probably a few passes Exum would like to have back — he finished with five turnovers — but for the most part, he made great decisions and tried to make the easy play rather than going for the home run. Spain tried at least four different guys on him and the results were fairly consistent throughout: Exum did what he wanted to do on his way to a brilliant performance.
— Here's a postgame interview with Exum from DraftExpress:
Filed to: Dante Exum