Notebook: Exum returns, NBA Draft bringing energy, USA Basketball TV schedule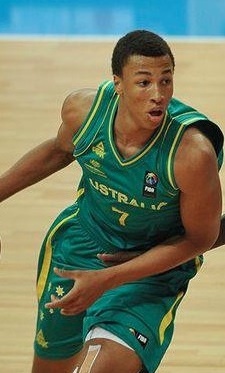 Class of 2014 guard Dante Exum, who missed last month's adidas EuroCamp with a stress fracture in his left leg, is back on the court for Australia in the 2013 FIBA U19 World Championships in Prague, Czech Republic.
Through five games in Prague, the 6-foot-6 combo guard is playing well and averaging 12.4 points, 3.2 rebounds and 3.0 assists per game. Exum is shooting 40 percent on threes and had 20 points in an 88-79 win over China.
Australia is just 2-3 through five games and lost to Team USA, 94-51, on Tuesday. Exum finished with seven points and four rebounds but played limited minutes in the loss because of a tweaked ankle.
He's expected to play today as Australia takes on Russia.
Exum, who is considered one of the top players in the 2014 class, took an official visit to Bloomington last winter and was in attendance for Indiana's 88-81 win over Minnesota at Assembly Hall.
NBA Draft gives recruiting efforts a "different dose of energy"
Victor Oladipo going No. 2 to Orlando and Cody Zeller going No. 4 to Charlotte may not bear immediate fruit when it comes to recruiting, but Indiana coach Tom Crean acknowledged the draft's impact on the program on a conference call last Friday.
"I think it just brings a different dose of energy. I think this program has a lot of energy anyways," Crean said. "It's one of the things we're built on. There is no question it brings more energy."
Heading into a critical month for recruiting — July has three NCAA evaluation periods — Crean said the staff no longer has to sell the program as potentially being great in the future.
"I think what it signifies, and I said this to the coaches this morning before we started camp, I said this goes to show that you don't have to deal with any entitlement," he said. "You don't have to deal with any enlightening guys to make them think that this is a great program. This is a great program."
World University Games to be broadcast by ESPNU
Indiana fans will have a chance to catch sophomore Yogi Ferrell and senior Will Sheehey in this month's World University Games in Kazan, Russia. ESPNU is scheduled to broadcast several games either live or on tape delay.
The team arrived in Kazan early Wednesday morning local time and will practice for four days, including a pair of scrimmages on July 4 against Russian basketball club UNICS and on July 5 against the Russia World University Games Team.
The World University Games begin on July 7. The United States is looking for its first gold in the event since 2005.
Here's the complete television schedule:
USA-United Arab Emirates
ESPNU: July 7 @ 7 pm ET || July 8 @ 3 am ET || July 9 @ 5 am ET
USA-Czech Republic
ESPNU: July 8 @ 5 am ET || July 8 @ 7 pm ET || July 9 @ 3 am ET
USA – Sweden
ESPNU: July 10 @ 7 pm ET || July 11 @ 7 am ET
USA-Australia
ESPNU: July 11 @ 7 pm ET || July 13 @ 5:30 am ET
Canada-USA
ESPNU: July 12 @ 5:00 am ET || July 12 @ 7 pm ET || July 13 @ 3:30 am ET
ESPNU will air the USA men's quarterfinal game at the following dates & times: July 14 @ 7 pm ET || July 15 @ 4 am ET || July 15 @ 8 am ET || July 16 @ 6 am ET
ESPNU will air a men's semifinal game at the following dates & times: July 15 @ 6 am ET || July 15 @ 7 pm ET || July 16 @ 4 am ET
Bronze Medal Game: ESPNU: July 16 @ 7 pm ET || July 17 @ 4 am ET
Gold Medal Game: ESPNU: July 16 @ 9 pm ET || July 17 @ 6 am ET
Filed to: Dante Exum, Will Sheehey, Yogi Ferrell