Rising 2015 big man Chase Jeter on Indiana's radar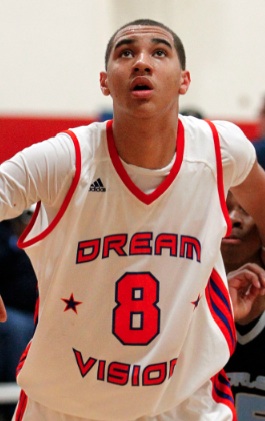 At 6-foot-10, 215 pounds and only 15 years old, class of 2015 big man Chase Jeter has tremendous potential.
The rising junior, who plays alongside Stephen Zimmerman, a consensus top 5 player in the 2015 class at Bishop Gorman in Las Vegas, says he's benefited from playing against older competition.
"I actually feel like it's helped me more playing against older guys," Jeter told Inside the Hall on Monday. "It kind of shows how quick my game develops, playing against people that are one or two years older. It just shows that I have a strong upside as long as I continue to keep working, which I will, and that I probably have room to improve."
Jeter is still growing into his frame and adding muscle to his body, but is already confident in his ability to change the game around the basket.
"I feel like I'm a really good post presence. I can shoot from the midrange and I can score easily around the basket whether it's finishing above the rim or using touch to get the ball in the basket," he said. "I alter a lot of shots. If I don't block them, I'm definitely changing people's shots when they come to the rim. One of the things I think I've improved on is being more aggressive and grabbing a lot more rebounds."
What's also helped Jeter continue to improve is going against Zimmerman, one of his best friends, frequently.
"We're both competitors and we both work hard. When we step in between the lines, it's a battle every time," he said. "We work out together a lot. If anything, it benefits both of us to be on the same team rather than being somewhere else. We get the chance to work with each other and against each other at the same time. I don't think I could be in any better position than with that, honestly."
Jeter, the No. 46 player nationally in his class according to ESPN.com, already has six scholarship offers — UCLA, UNLV, Arizona, Oregon State, USC and Missouri — and interest from several other schools, including Indiana, Kansas and North Carolina.
"I've seen them (Indiana) at my games ever since last summer," he said. "They've been at a lot of my games this spring. Every single tournament we've had this spring, I've seen them there. They've been contacting me. I've been texting (associate head coach) Tim Buckley and I've been receiving a lot of mail from them as well."
Indiana had arguably the biggest night of any school in Thursday's NBA Draft, placing two players in the top four picks overall. That didn't go unnoticed for Jeter, nor did the way IU likes to use its post players.
"I do like the player development with how they did in the (NBA) draft," Jeter said. "Another thing is how they run their offense through their big men. That's really important to me because I'd want to go to a place where I could be playing right away."
The rest of the summer will be busy for Jeter. He'll play for the adidas AAU program, Dream Vision, during the July evaluation periods and in the adidas Nations Global Challenge in August. He also hopes to take some unofficial visits.
"We're planning to take unofficials to Indiana this summer and also Marquette," he said.
Filed to: Chase Jeter