Q & A: Tom Crean discusses 2013 NBA Draft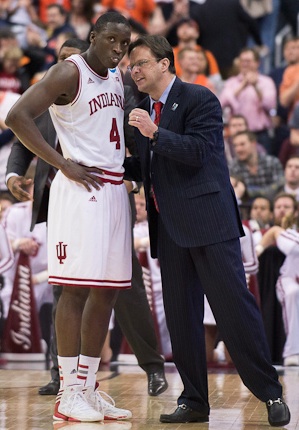 Tom Crean addressed the media earlier this morning via teleconference to discuss Thursday's NBA Draft. On the call, he discussed several topics, including Victor Oladipo's work ethic, Cody Zeller's game translating to the NBA, Christian Watford's future and more.
Here's the complete transcript of his comments, via ASAP Sports and IUHoosiers.com:
COACH CREAN: Thank you everybody for joining like this right in the middle of our basketball camp. We had a great night last night, relatively short night by the time everything got finalized with Christian Watford. But, nonetheless, a great, great night for everybody in Indiana, but most importantly for Victor Oladipo and his family and Cody Zeller and his family.
I think the fact that both of them went the way they did speaks volumes about their work ethic, about their character, about the intensity and competitiveness that they have. And in my mind as a coach, the greatest thing about the two of them moving forward is the upside, the tremendous upside that both of them still have. Because Victor just turned 21 in early May, and Cody's not 21 until October.
So there is a tremendous amount of growth in those guys that we've had the privilege of being a part of the last couple of years; and I think that their coaching staffs, management staffs and the fan bases in both Orlando and Charlotte are going to be really, really excited, not only about what they do on the court, but I think they're going to be blown away by what those guys are capable of in making people feel invested and a part of the program the way they're going to be in their communities in the states as well. So I'm excited to watch all of that play out too.
Q. Victor's reputation as an extremely hard worker is well known including here in Florida. But can you cite some examples of just how much of a hard worker he is?
COACH CREAN: Yeah, I can. In the three years that he was here, especially during the season, there might have been two days that he took off. One of them I told him not to come in. I'm talking about not just after a game or before a game or on a day off or at the end of practice, I mean, every day he came to work.
It started when he first got to Indiana. When he and Will Sheehey who is from Florida, became two freshmen that walked in and utilized our new building and started working on their games until the last day Victor was here until he headed back to D.C. two days after graduation and all that time in between.
He is an extremely gifted athlete, tremendous charisma, and just strength of will and personality. But when he gets in the gym, it is all business, and that is exactly what propelled him to so many different things. I mean, it was just common for us to practice and if we ended practice and weren't going into films or the weight room, he stayed in the gym. Put his cones up and started to work on different things, with a coach, without a coach, with a graduate manager, and work on his shooting. Even if we went to weights and to film, he always came back out.
We got to the point where we went on the road and we took the cones with us because he wanted to work on and set the cones up at the walk throughs after we'd have our walk through practice because he constantly wanted to make his ball handling better, not only his shooting but his ball handling.
He's just got a force of purpose right now that's incredible, and I think it's just going to continue because I think that's who he is. That's his work ethic. It wasn't anything that we did to push that work ethic. I think we helped intensify it, but he had it when he got here, and I think he'll definitely have that in the NBA.
I can't be any happier about the group of guys that he's going to work with in there, because I know that's a high level player development staff in Orlando.
Q. Could you talk a little about how Cody's game translates to the NBA?
COACH CREAN: Well, I think the upside of his skill level is just going to continue to grow because he's such an athlete, and his athleticism shows in so many ways. Sometimes it shows very obviously with how he runs the courts, with how he can get out and run with the moves that he can make on the perimeter. I think the thing that doesn't always show up is how good he is in short spaces and how good a defensive player that he is and when it comes to pick and roll defense.
He's as prepared as any big man I watched in college this year, a big player to come in and defend pick and roll basketball, to come in and defend on the side, up high, to play the post. I mean, he's got an incredible mind. He is a quick, quick learner. He's got as much mental toughness at 19 and 20 years of age as anybody that I've ever coached.
I think when he gets comfortable with moving his game away from the basket because the game has been away from the basket quite a bit already with the way he runs pick and rolls and the way he drives the basketball. But getting comfortable shooting the basketball from the perimeter and shooting it from range in games, when he get that's comfort level down because the skill set is there. There is no doubt about that. He's just got to get the comfort level of that I think once he does, it's going to take off that much more. He's going to be a multi dimensional player because he can drive it, he can shoot it, he can score it in the post, he gets fouled, but he can really pass the ball.
So when you have upside like that, I don't think there is any question you're going to continue to get better.
Q. The Bobcats talked last night about his potential to be a stretch four. How much did you see that coming on? I realize it didn't make sense with the way your team was structured to use him that way, but did you see that as his future?
COACH CREAN: Well, we had a great stretch four in Christian Watford. And the one thing about Cody is there is no better runner than I saw in college basketball. The year before he would have been there with Anthony Davis, and it was neck and neck. But last year there was nobody close to him in the way that he ran the floor. All you've got to do is go back to the North Carolina game up here at Assembly Hall to see that again from the beginning of what he was like getting out on that break. So to not have him run the court would have been a big mistake on all of our parts.
But as far as on the perimeter, he had great freedom to be able to float, get away from the basket. What he did is he wanted to drive the ball. He's got a great shot fake. He's got an excellent first step which got better and better here as he learned to play with that athleticism and drop his shoulders. And last year he got significantly better at driving the ball left.
Then at the same time, he could make jump shots. The Michigan State game at Michigan State, he makes four 15 to 17 foot shots in that game. So it's there. It's just a matter of comfort level.
But when you've got a guy that can get to the foul line like he does and make the foul line or make the jump, he's a 76% free throw shooter for his career, so when you've got that, you want to make sure that he's getting as many opportunities as possible for that.
But when it comes to running, there are not many people that are seven foot that have had the amount of ball screens ran for him that Cody has had. And that was one thing that we made a big part of our offense over the last two years. So we utilized him a lot of different ways. We never looked at him as a five man or a four man; we looked at him as a big basketball player with a lot of talent.
Q. Fairly or unfairly, a lot of people compare Victor to Dwyane Wade. You know a thing or two about Dwyane Wade having coached him at Marquette. Does he compare bodywise, work ethic, that sort of thing? Is that where the comparisons come from?
COACH CREAN: I'm never big on the comparisons because it's not fair to Dwyane. Dwyane is one of the best players in the world, and Victor just turned 21. So it's not fair to either one of them.
But where it comes to the comparisons, everyone you just mentioned, there is no question. The character, the kind of people they are, the teammates they are, the way they made each other better, I mean, made their teammates better, I should say, is huge.
Dwyane came in with much more of a scorer's mindset than Victor had. I mean, Dwyane had a day his senior year where he scored 48 points on a Christmas tournament in the morning and 42 points at night. That was 90 points for the day. So what you have is a guy that he came in with that.
Victor didn't have that. Victor didn't come in with a scorer's mindset. He came in with an energy, get to the rim, defensive mindset, play harder than anybody else, and he became so much more of a scorer.
One of the things that stands out about Victor is he never came in with that I have to shoot it mentality. That's not what got him going. What got him going was his defense and his shooting. He became so much better.
He's not a volume shooter. He's not a guy that's going to come in and take questionable, shaky shots. He's not a guy that's coming in and it has to be about his offense. Victor is about winning.
He had an unbelievable high school career with a great program at DeMatha. He helped us to 56 wins the last two years. He does what it takes to win. Well, Dwyane was very much the same way. But they had two different mindsets coming into college. And Victor is well on the way, because of his level of improvement and because of his age. There is so much upside in Victor, because of his athleticism, because of his character, and because of how smart he is. And Dwyane had the same things there.
Now how it all plays out remains to be seen. But Dwyane went in and established that he was going to work. That he wasn't going to take a back seat to fear. He wasn't going to take a back seat to experience. He was going to go and work and play the way he knew how to play. I fully expect that Victor will do the same thing in Orlando.
Q. Do you have examples of how that crazy work ethic of his helped improve the jumpshot that maybe wasn't what it is now?
COACH CREAN: Just nonstop work. I mean, nonstop. Whether it was early in the morning, whether it was certainly we shoot a lot during practice. I mean, we led the country in the last two years in three point percentage and field goal percentage when you combine it over two years. So we spent a lot of time in practice shooting the ball. But it was always, always a lot of extra work for him.
The thing that impressed me so much about him is it didn't matter how long we went and practiced, it didn't matter what we did after in the sense of films or weights, he always came back out. He always came back out. He always had to do more.
I think the biggest thing is he did so much in here that we never saw because it would be late at night. It was nothing for him to watch an Eastern Conference game or a Western Conference game and be jacked up and come in here and shoot for another hour, you know. Not only did he wear the swipe card out, I think he probably wore out the iPod system once or twice too because he would bring his music in.
He just loves to play. He loves to work. He's one of those guys that he loves to get better, improving individually, but he also loves to play. He led us in practice. He and Cody over the last two years we stat everything in practice, and every time there is a win or lose, we keep track of that. He and Cody were our two biggest winners in practice over the last two years in everything that we did. And I think that transferred into his mindset of how we worked off the court and how we won on the court.
Q. The impact of last night in terms of recruiting maybe in terms of helping with, as an example of players who have knowledge in terms of working hard and stuff, how big an impact does last night have on them?
COACH CREAN: I think it just brings a different dose of energy. I think this program has a lot of energy anyways. It's one of the things we're built on. There is no question it brings more energy. And I was on the phone so much leading up into the draft for Cody and Victor, but then during the draft in the case of Christian and Jordan. So I was on the phone a little bit with recruiting, but not very much.
But the assistant coaches were on the phone a lot. I think that was important. There was a lot of texting going back and forth. There were a lot of phone calls going back and forth. We were already recruiting in the sense to try to win as much as we can, so I don't think it's going to change the person that we're recruiting as much. But I think what it signifies, and I said this to the coaches this morning before we started camp, I said this goes to show that you don't have to deal with any entitlement. You don't have to deal with any enlightening guys to make them think that this is a great program. This is a great program.
If you're soft, if you're selfish, you're not going to make it here. It doesn't work.
Those guys were tremendous representatives of what it means to be great people but just be absolute competitive nightmares on the floor, and I think that's what they are. That's what we want to continue to recruit. So there is no question we had our workouts yesterday, and we don't have Yogi and Will here and a couple of the guys are banged up with injuries, but our level of energy inside of an hour of workout was so good, and it was so great. I think people were anticipating what was going to happen last night, and there was before anybody knew those people were going to go 2 and 4.
So the energy is just going to continue to grow in here. It's what's great.
Q. I didn't hear the whole story with Christian. What ended up happening there and who picked him up?
COACH CREAN: I think I'm going to let the teams handle that because I think it's better when it comes from them. But he's going to be there was tremendous traffic as the draft was winding down last night, with head coaches and owners and GMs, so he was highly disappointed. There is no question about that.
There were quite a few scenarios inside of it that just didn't come to fruition. What he did is a tremendous job showing his skills, selling himself, and doing the things that he needed to do inside of all of his workouts, and I think he took his respect level to another place. Because I think what happened is when he got in there and he was going against different people in all these different cities, the 16 and 17 different cities he was in, he went and battled. And people got to see what we saw. I think he eliminated a lot of questions that people might have had about him.
What I gave him last night was, hey, nobody drafted Wes Matthews a couple years ago, and a year after that he's making $32 to $34 million dollars a year. Only now it becomes truly about business. There are a lot of people that had a lot of interest in him that he looks at and says they had the opportunity to draft me and they didn't. And I told him, we can't worry about that. What we've got to be concerned about most importantly is where you have the best opportunity to fit, and at the same time, where you're going to have the best opportunity to showcase to the other teams what you're capable of.
So he'll feel better. He'll get back at it and he'll be really busy here quickly. But I'll wait and let the teams make those announcements.
Q. Victor and Cody obviously don't go into winning situations, but they helped you build something there. Do you think the fact that they've been through this building process before will be good for them?
COACH CREAN: Absolutely, absolutely, because they're great teammates. When you have great teammates and both of them have a different level of infectious energy. And Victor's is a little more outward, and Cody is a little more inward. But when you have that kind of energy you bring confidence to your teammates.
Cody came in with all the attention, all the accolades and made himself a teammate from the beginning. He could laugh at himself and never acted anything other than just a regular guy, because that is who he is. Victor came in and brought his energy and brought his loudness, and brought his happiness and all those things. Then he showed this incredible work ethic to this team along with Will Sheehey we helped Jordan Hulls see that he was doing it the right way at that point in time and was spending that kind of time in the gym, and the rest is history.
So they'll go in and blend, but they'll also go in and they won't be afraid to compete. They won't be afraid to do their best. But they'll go in and they'll blend and they'll respect their teammates, and I think that's how they'll show leadership. I think those are the things that help programs grow.
So I don't think they need to make a lot of changes in how they act and operate when it comes to being members of a team because they've proven it works here. But when they're playing with those older guys, they'll still be who they are. And I think over a period of time, and I'd be shocked if their coaches don't feel they're showing great leadership to their entire team in a short period of time.
Q. At what point it felt like Cody was in the 7 to 12 range in the lottery and a lot of projections and lot of people saw him. At what point did Charlotte zero in on him at No. 4, and what led them to see him as a guy that landed at No. 5?
COACH CREAN: Again, I don't know, 7 to 12, there is so much speculation. There was always a chance I guess it would fall to that point, but I didn't sense that. He had too many great workouts. He was on the first line of too many top 5 programs.
So to me Charlotte and Orlando, when you look back at it, did a great job of coming in here in the year and spending extra time, sometimes even unbeknownst to us. Any time you have a general manager like at Charlotte, Rich Cho, who is coming in for a couple days at a time, not just shooting in for a practice or a game, but coming in for a couple of days and Orlando did it. That's not to mention all the countless games that they see at home and on the road.
But there were others. There were many others that had the same type of research mentality during the year. But those two, when I look back at it, they spent a lot of time in here last year, and even Orlando to that case, the year before. But, well, some of the guys that ended up being in Orlando, I should say, spent that time the year before.
But to me there was no question that the people that were drafted high liked them both. I'm not I wasn't necessarily looking through the glass and seeing it half full. Sometimes as a coach you're looking at it half empty. What can we do to keep pushing this up?
The bottom line too is when you're talking to the teams, you want to be able to you want them taking your call the next time, and there is no situation I had a situation last night where one coach was telling one person that was one thing about a player, and telling somebody else who was a little higher in the draft something entirely different. I don't want that ever said about me or anybody on this staff.
So you've got to tell the truth. You're not sharing information as much as you're giving the values and where the improvements need to be.
All those teams did a great job of checking that stuff so I wasn't surprised where they went. I didn't have the inside knowledge, but I knew they were right there in both of those situations.
Q. You mentioned before that Victor has worked hard on improving his ball handling skills. I'm assuming he didn't play much, if any, point guard for you. Could you see him running an offense in the NBA or at any level?
COACH CREAN: Oh, absolutely. No, no, and he played some point guard. What we did with him is what I did with Dwyane Wade his last year. Dwyane played about 32 minutes a game, and six of those minutes were at the point because he needed to have that in his system. Actually, when Miami drafted him, they drafted him as a point guard.
Victor, we ran at point in practice. When you've got great players like that, you've got to try to make the game as hard as it can be for them. At the same time, you've got to try to make them bring as much versatility to their game. Not only for your team, but for their future.
And there were a couple of teams that I talked to where I have a respect for them and knew that they were looking at this with the right eyes during the season. That they had questions about could he play that point position; and because he's so good in the middle pick and roll and got so good in the side pick and roll and he needed to improve his decision making, we'd do that with him. There were times in games that he would play the point. There were certainly times in practice that he would run the point. Any time we did three on three, four and four type situations, he would run the point instead of the offense. So all of those things helped him.
There is no question, Victor Oladipo is a guard. But the one thing he is too and we needed him on the offensive board. I mean is a guy that the last month of the season he had his best offensive numbers for us. We go up to Michigan and win the Big Ten Championship, and he's got seven offensive boards, I believe, in that game. So he's such a basketball player that you don't want to take his strengths away from him. That building that strength to be able to run an offense is something that we were really conscious of.
Q. If there is anything that may be a knock on Victor is his lack of height in the 6'3″, 6'4″. How does he overcome that or does his length make up for that?
COACH CREAN: His length makes up for that. He's a six or six and a half wing span. He plays very long. I've had two players in my time as a head coach that average 12 deflections a game. Dwyane Wade averaged 12.2 in 2003 and Victor Oladipo averaged 12.2 in 2013.
He plays with great length. He has excellent tenacity. He has tremendous high hand coordination, a toughness. We had two guys well, really three when you look at Christian Watford, because he guarded point guards at times especially the year before but last year, Victor Oladipo and Will Sheehey could guard anybody.
It was not anything for us to put Victor on a five man to slow him down and get into his legs and fight. Victor is a fighter. This came up with some other teams that actually didn't even draft him that how would he do in a three guard offense? How would he do guarding some of the small forwards?
Well, you never know who is ready to guard LeBron and Carmelo and people like that. But you do know if a guy's willing to fight with those guys and get after them and compete with them. And Victor will get better and better, but Victor is a pure competitor. When you compete, you're going to do what it takes to be in the game. You're going to do what it takes to keep the ball away from people.
When I look at Victor, one of my favorite all time defenders is Raja Bell, and Raja Bell could go and Tony Allen, he gets the comparisons to him and I see that. But Raja Bell could guard anybody in his heyday and wanted those match ups.
To me, I see Victor having that same type of defensive mentality, and that's only going to grow. I'm not trying to compare them to Raja Bell. I'm trying to compare his intensive fighting ability, fighting for position and spots to somebody like that, and I think that's going to really help him. He's going to get on the floor because of his defense as well.
Q. Can you talk a little bit and give some insight into Victor what he's like off the court?
COACH CREAN: Well, I think you'll see if you go to the press conference will you be at the press conference today?
Q. Yes.
COACH CREAN: You'll see some of it starting today. You know what I saw from the very beginning is his eye contact. It sounds kind of goofy because we're all tight at a young age to give that, but we all know that's getting harder and harder. And Victor looks you in the eye. He's respectful. He's spent a lot of his life around older people.
I mean, here's a guy that drove an hour and a half to school, okay? So he's a wisdom guy. He loves to learn. He's got a humbleness.
Last night I said, How do you feel? He said, It's humbling. And he means that. He means those type of things. This is a guy that this was never supposed to happen to him. What he's done is he's just worked his way with the sheer force of purpose to be there. But he never, ever got away from being the guy that could sing an Usher song at Hoosier Stadium in front of 17,400 people, or do a skit or make his teammates laugh.
He became a leader because of his humor. He became a leader because of his energy, and he became a leader because of just his will and his grit. I think when you have a person like that, he's never, ever gotten away from who he is, and that is going to be key that he never changes. No matter how big he gets in the NBA, no matter how famous he gets, no matter how many commercials he does, that he understands that charisma and that empathy that he has for people is real, and I think you'll all see that.
Thank you everyone for your time, and I hope you guys enjoy those guys today at the press conference. Because I think you're going to enjoy covering them. Thank you.
Filed to: 2013 NBA Draft, Cody Zeller, Tom Crean, Victor Oladipo