Victor Oladipo picked 2nd, Cody Zeller selected 4th in NBA Draft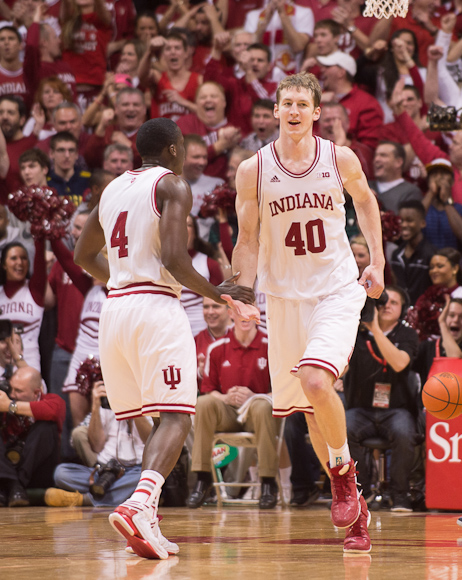 It didn't take long for Indiana's Victor Oladipo and Cody Zeller to go off the board in Thursday's NBA Draft.
Oladipo was selected No. 2 overall by the Orlando Magic and Zeller went two picks later to the Charlotte Bobcats at No. 4.
Both players were selected before Kentucky's Nerlens Noel, who was widely expected to be the top overall selection but slipped to No. 6.
"I'm really looking forward to it," Oladipo told reporters at the Barclays Center in Brooklyn. "They're in a rebuilding process. I'm just glad they chose me so I could be a part of that. In Indiana we had a huge rebuilding process, so I know what it takes. I'm looking forward to going there and working hard and playing at a high level and help impact winning."
Oladipo, who was ranked in the 140's by multiple national recruiting services coming out of high school, averaged 13.6 points and 6.3 rebounds per game for the Hoosiers last season. He continued to climb the draft boards throughout the season and into the offseason when he impressed at the May draft combine in Chicago.
The Magic won only 20 years a season ago, so Oladipo will be part of a rebuilding project in Orlando. Jameer Nelson and Aaron Afflalo made up Orlando's starting backcourt last season, but Afflalo has been mentioned in several recent trade rumors and could be moved before the summer is over.
The Magic also have E'Twaun Moore and Doron Lamb at the shooting guard position.
"We're really excited," Magic general manager Rob Hennigan told ESPN. "Victor's a guy we followed all year long. We just really like what he's about and we like his work ethic. We feel like he plays efficient basketball."
Most draft experts had Zeller coming off the board sometime around the No. 10 spot, but Charlotte general manager Rich Cho was reportedly infatuated with Zeller and worked to convince others within the organization that he was the right pick.
The Bobcats were 21-61 last season and have never made the playoffs as a franchise. Charlotte has a young core that includes point guard Kemba Walker and former Kentucky standout Michael Kidd-Gilchrist. Byron Mullens got the majority of the minutes at center for the Bobcats last season, but he is a restricted free agent this summer.
"I'm so excited for Charlotte, playing with the Bobcats," Zeller told reporters. "It's an unbelievable feeling. It's one of my top choices just because it's a young group of guys with Kemba Walker and Kidd?Gilchrist especially. Guys with good motors that play the right way.  They get up and run. It's a good group of young guys. Charlotte seems like a great city. I think all around it's a great fit for me."
Zeller averaged 16.5 points and 8.1 rebounds per game in his sophomore season for the Hoosiers last year. He is more likely to play the power forward position at the NBA level, but he may have to do both in Charlotte.
Filed to: Charlotte Bobcats, Cody Zeller, Orlando Magic, Victor Oladipo