Yogi Ferrell looking to make most of World University Games experience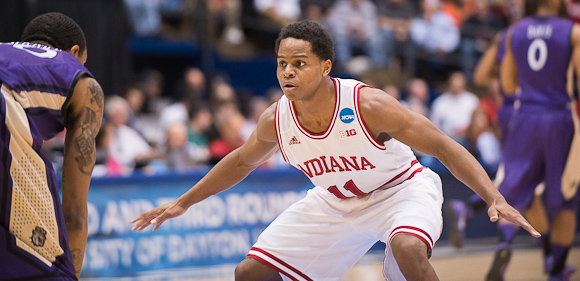 Indiana sophomore Yogi Ferrell isn't just happy with being invited to try out for the World University Games team with USA Basketball.
He wants to go to Russia and represent his country along with his teammate, Will Sheehey.
"It's definitely a great feeling (to be invited)," Ferrell told Inside the Hall on Monday night from Colorado Springs, Colorado. "Will and I are going to try to be chosen in the top 12."
The United States is seeking its first gold medal in the World University Games since 2005 and its first medal since it captured the bronze in 2009.
Ferrell, the youngest player participating, and Sheehey both arrived at the training camp today and competed in a session of games this evening. There are two more sessions on Tuesday and one on Wednesday before the finalists for the team are announced. The Indiana point guard says he'll take on whatever role is asked of him by the staff, which includes a Big Ten presence in Michigan's John Beilein.
"Doing whatever it takes for my team to win," Ferrell said. "I've definitely been working on my shot this summer, my midrange game and everything. I can see myself being a facilitator, playing with some of the top guys in the country is going to be a lot of fun because everyone can run, is athletic and can score for our team."
While it's early in the training camp, the Indiana sophomore already sees potential after just one evening on the court together. Five Big Ten players besides Ferrell and Sheehey are in the camp, including Iowa's Devyn Marble and Aaron White, Michigan State's Adreian Payne, Minnesota's Andre Hollins and Purdue's A.J. Hammons.
"I think it can turn into a great team. The first game was kind of tough because of the elevation," Ferrell said. "It kind of hits you a little bit, but then it got to be alright. I know we feel like we played well. Everyone's out there talking, playing defense and sharing the ball a lot. I feel like that's what we're going to need if we're going to bring home the gold."
With a season of experience that included a Big Ten championship and a trip to the Sweet 16, Ferrell believes he's learned a lot over the last 12 months.
"Being smarter and sometimes slowing the game down when it needs to be slowed down or playing fast," he said. "Not trying to force too much. I kind of felt like my freshman year I tried to force too much of what wasn't there. I feel like I've learned from that and am going to transition that over to USA Basketball."
The culture of getting into the gym for extra time has been well-documented at Indiana. It's no coincidence that when Jordan Hulls, Victor Oladipo and Sheehey made becoming a "365-day-a-year" player the expectation, the program began to turn the corner.
Ferrell says there wasn't really one moment where it hit him that he needed to be in the gym every day, but does feel it's now a part of who he is as a player.
"I feel like it kind of progressed into me wanting to get better every day," he said. "I'd say that was just the leadership Victor, Will and Jordan showed us younger guys especially, just pretty much how to work out. We always get extra shots up after practice and do whatever it takes to improve our game."
Finalists for the 12-man roster will be selected on Wednesday afternoon and the training camp in Colorado Springs concludes on Sunday. The 12-man roster will then travel to Kazan, Russia for a training camp that begins Wednesday, July 3, followed by the start of the World University Games on Sunday, July 7. When the team departs for Russia, Ferrell hopes to be on the plane.
"We haven't won a gold medal in a while," he said. "And we want to go over and bring home the gold."
Filed to: USA Basketball, Yogi Ferrell