Draft watch: Victor Oladipo works out for Cleveland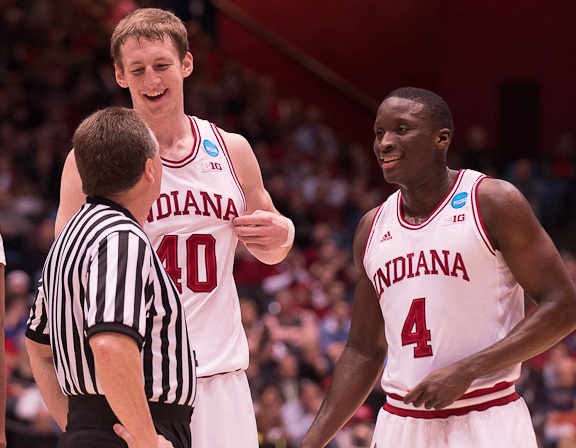 Just one week remains until the 2013 NBA Draft and with several mock drafts updated this week, it's time for another look at where Cody Zeller and Victor Oladipo are currently projected to be selected as well as some recent buzz on Christian Watford.
Victor Oladipo
ESPN: (2 to Orlando) Draft Express: (5 to Phoenix) NBADraft.net: (7 to Sacramento) SheridanHoops.com: (2 to Orlando)
· Analysis: Oladipo worked out Wednesday in Cleveland along with Ben McLemore, Otto Porter and Jamaal Franklin. He's also worked out for Phoenix and Orlando, the two teams most frequently mentioned as potential landing spots, and declined a workout for the Washington Wizards, according to The Washington Post. ESPN.com's Chad Ford said Tuesday on Sportscenter that the Cavaliers haven't decided which direction they'll go with the No. 1 pick and the fact that Oladipo, McLemore and Porter were all brought in this week seems to indicate the franchise is doing its due diligence. That said, Ford is still projecting Nerlens Noel at No. 1 while adding that Oladipo has the upper hand over McLemore at No. 2 to Orlando.
· Expert Opinion: "With a potential hole at shooting guard to fill, the Magic have their choice of Ben McLemore and Oladipo. Both guards represent better value and have higher ceilings than Trey Burke. The current preference is Oladipo, who projects as a better defender and is a better athlete than McLemore. Although McLemore has been as high as No. 1 in our mocks, Oladipo looks to be making a push. Considering Orlando GM Rob Hennigan came from Oklahoma City, going with a player that has a high upside, high character and is very long and athletic makes the most sense. While Oladipo has continually risen up NBA draft boards, McLemore has started to slip a bit, and that could see him fall more than initially anticipated." – SheridanHoops.com.
Cody Zeller
ESPN: (11 to Philadelphia) Draft Express: (11 to Philadelphia) NBADraft.net: (8 to Detroit) SheridanHoops.com: (11 to Philadelphia)
· Analysis: Zeller has already worked out for eight teams in the lottery: Charlotte (4), Phoenix (5), Sacramento (7), Minnesota (9), Portland (10), Philadelphia (11), Oklahoma City (12) and Utah (14) and a ninth workout will reportedly take place on Friday in Detroit (8). The 76ers remain the team most frequently linked with Zeller as the 76ers need frontcourt help, particularly if the franchise is uncertain about its chances to re-sign Andrew Bynum in free agency. Despite the buzz Zeller received following his performance at the combine last month, it hasn't really helped his position in any of the mock projections.
· Expert Opinion: "Every year on draft night, there is a highly talented big that falls into the late lottery; this year, it looks to be Zeller. Despite better-than-expected athletic testing at the combine, there are still concerns with Zeller's position, short arms and whether his game will translate at the next level. With that said, his offensive game is advanced for his age, and big men with his polish and touch are hard to find. Zeller is a good fit for the Sixers regardless of whether or not they keep Bynum. He could play a role similar to that of Pau Gasol when Bynum was in Los Angeles, or he could fit in well with a team without Bynum that likes to get out in transition." – SheridanHoops.com.
Christian Watford
· Analysis: While he's not being mentioned in the mock drafts, the second round is typically a crapshoot to predict, particularly when it comes to the very late picks. Watford has worked out for 15 teams and RealGM.com reports, via a source, that the former IU forward is "poised to be drafted." Watford also believes he'll be picked, telling The Indianapolis Star after a workout for the Pacers that he's "very confident," and that being selected is "the one thing that hasn't wavered throughout this process."
Filed to: Christian Watford, Cody Zeller, Victor Oladipo