2014 guard Ahmed Hill planning official visits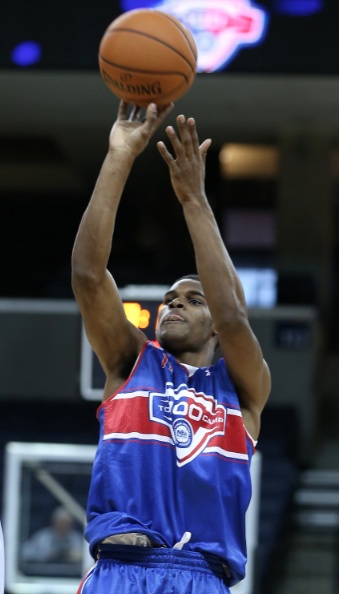 CHARLOTTESVILLE, Va. — Class of 2014 Aquinas (Ga.) guard Ahmed Hill has a long list of suitors and is in the process of planning official visits for this fall.
Indiana, one of the schools that has recruited him the hardest over the last year, will likely receive one of those visits from the No. 33 player nationally according to ESPN.com.
"I'm going to take a visit to Indiana," Hill said at the National Basketball Players Association Top 100 Camp last week at the University of Virginia. "I really like coach Crean. They're a hard nosed defensive team and their guards get after it. They've got shooters and I like their style of play. I like the fanbase at Indiana."
The other programs who are potentially in line to receive visits, according to Hill, are Missouri, Florida, Texas, Kansas and North Carolina.
He's already taken unofficial trips to Alabama, Georgia Tech, Clemson, North Carolina State and Georgia.
Despite a recent run of class of 2014 commitments over the past few weeks that included guys like Theo Pinson, D'Angelo Russell and Grayson Allen, Hill isn't in a hurry to make a decision.
"A lot of kids don't get this opportunity so I'm trying to make the best of it," he said. "Just trying to get a feel for the right coaches and the right time. Hopefully I'll put my trust with a coach and he'll lead me in the right direction."
As a junior at Aquinas, Hill averaged close to 30 points per game and was named the All-Area player of the year by The Augusta Chronicle. In college, he believes he can help a program at either guard spot if he continues to improve his ball handling.
"Pretty much (I see myself) as a combo guard," he said. "If you have high IQ, you can see things before they happen and read the defense. You've just got to have good shot selection, know when to shoot and when not to shoot."
Another facet of his game that Hill says schools, including Indiana, have taken notice of is his defense. Right now, he believes his speed, athleticism and ability to get to the basket are the strongest parts of his game.
"I'm a good defensive player. I'm getting recruited for my defense by certain schools," Hill said. "Indiana definitely likes my defense. They like the way I guard, they like my toughness. I'm going to continue to get better at it."
Indiana's ability to develop players for the next level, particularly a player like Victor Oladipo, was a frequent topic of discussion by recruits at the Top 100 Camp.
Hill was no exception.
"It shows me that they can develop guys pretty quickly. He came in as a nobody and now he's projected to go high in the draft," he said. "That's really great because it shows that they put in work every day and it shows that he trusted the coach."
(Photo credit: Kelly Kline/Under Armour)
Filed to: Ahmed Hill