Rising sophomore Caleb Swanigan continues to improve conditioning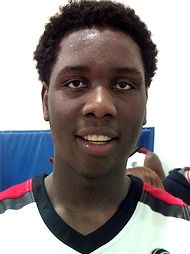 CHARLOTTESVILLE, Va. — For a weekend, class of 2016 Homestead big man Caleb Swanigan had to choose between basketball and football.
The hardwood won out.
"I was supposed to go to the Alabama (football) camp this weekend, but I got called and invited here so I came here because it's a better chance for me," Swanigan told Inside the Hall at the National Basketball Players Association Top 100 Camp at the University of Virginia. "Playing in the Top 100 Camp is a great opportunity for someone my age."
The 6-foot-8, 250 pound forward is already being recruited for both sports by major programs. In basketball, he's a bruising big man with soft hands and excellent footwork. And on the gridiron, he's a skilled offensive tackle with interest from the SEC.
One of the constants for Swanigan this offseason is working on his conditioning. Since the Spiece Run-N-Slam in Fort Wayne in early May, Swanigan said he's already down 10 more pounds.
"I'm probably in the best shape of my life right now, but I'm not where I need to be," he said. "I'm going to continue to work on it and go hard all summer so when Peach Jam comes, it looks like I'm a totally different player."
A main focus for Swanigan is continuing to shed weight while adding muscle.
"It's pretty much working out, watching what I eat and doing a lot of cardio, which is good for cutting fat," Swanigan said. "And I've got to lift so my body doesn't get soft as I lose weight and I still keep my strength. Even though I'm lighter, I'm still stronger.
At the Top 100 Camp, Swanigan showed why ESPN.com recently rated him the top class of 2016 player in Indiana and the No. 18 player overall in the class. He averaged 7.8 points per game and displayed footwork that's uncommon for a player his size.
"It's definitely something I've worked on along with God given ability," he said. "I've definitely got to craft it. I work on my footwork every day. My goal is to get the point where you can't say it's good for a big man, it's just good, period."
Ultimately, Swanigan will likely have to choose between basketball and football at the next level.
He's expected to be recruited heavily by Indiana for basketball and already has interest from Chicago State, Georgetown, Miami (FL), Michigan, Michigan State, Ohio State, Purdue and Stanford. In football, schools like Alabama, Auburn, LSU and Mississippi have already reached out.
At the Run-N-Slam, Swanigan said he planned to quit football if he continued to grow taller, but at NBPA Top 100 Camp, seemed to have softened on that stance for now.
"I'm still working on it, still plan on playing and it's part of my future right now," he said.
Filed to: Caleb Swanigan