Phil Booth plans to visit Indiana later this month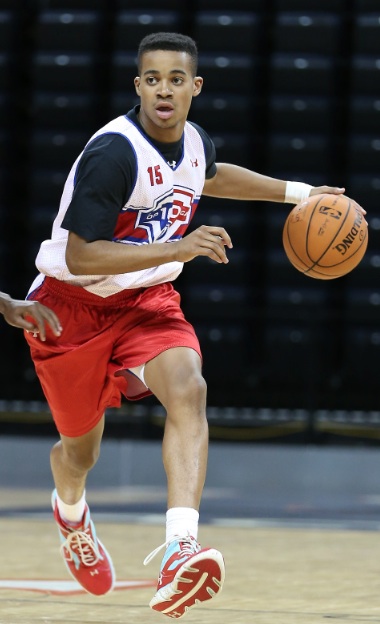 CHARLOTTSVILLE, Va. — Indiana has been recruiting class of 2014 guard Phil Booth hard for over a year now, and the Hoosiers have shown no signs of letting up.
Booth said at last week's NBPA Top 100 Camp at the University of Virginia that he still talks to either Kenny Johnson or Tom Crean every day and he plans to take an official visit to Bloomington later this month.
"It's been pretty heavy lately," Booth said. "We were talking about taking a visit this month. It's still up in the air, but I'll definitely make a visit before next year starts."
The presence of Johnson has really helped Indiana with Booth because of his East Coast ties. The 6-foot-3 guard is from Baltimore, and the other schools recruiting him hardest are much closer to home.
Booth, who plays at Mount St. Joseph's and also for Team Takeover on the AAU circuit, said he also plans to take return visits to both Maryland and Villanova in the coming months.
When asked what coaches he has the best relationship with, Booth mentioned Villanova's Jay Wright and Maryland's Mark Turgeon. But that doesn't mean his relationship with the Indiana staff isn't strong, too.
"Me and coach Crean and Johnson go way back," Booth said. "I'm pretty tight with Johnson. We text all the time. It's kind of loose sometimes.
"They've been recruiting me so long they have to slow down and speed up at times because it's been so long. They're speeding up right now."
Perhaps the most newsworthy note to come out of Top 100 Camp was the fact that Booth hopes to play point guard at the next level. The 6-foot-3 Booth has always played both backcourt positions, but he said he'll be prepared to play with the ball in his hands at the collegiate level.
That plan may have something to do with his court vision, which Booth called the biggest strength of his game.
"I can see the court pretty well," Booth said. "My weakness, from time to time coaches don't think I'm aggressive enough. I need to be more aggressive."
Booth said he will commit in the fall, but he hasn't yet targeted a specific month.
Photo credit: Kelly Kline/Under Armour
Filed to: Phil Booth