Hoosiers making strong impression on 2014 forward LeRon Black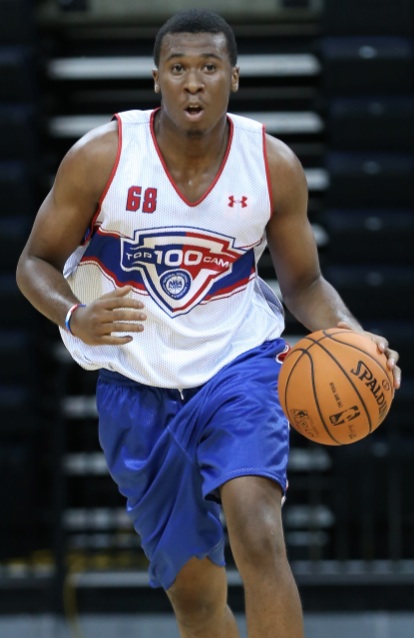 CHARLOTTSVILLE, Va. — Indiana didn't make contact with 2014 forward LeRon Black until late in May, but once the coaching staff started talking to him, they haven't stopped.
"They said they've been trying to get in touch with me for awhile but I changed my number recently and they hadn't got in touch with me," Black said at National Basketball Players Association Top 100 Camp last week.
Indiana's recruitment of Black seems remarkably similar to that of Troy Williams, who reopened his recruitment after trimming his list to Kentucky and North Carolina and then signed with the Hoosiers signed in the 2013 class.
Black decommitted from Baylor in January, and like they did with Williams, the Hoosiers are making a late push. But that doesn't seem to have hurt them.
Indiana extended a scholarship offer to Black on June 3, and he said he's talked to either Kenny Johnson or Tom Crean every day since then.
"[Me and Johnson] were texting and he was telling me how hype he was about me," Black said. "And so I was like, 'Do I have an offer?' He was like, 'I don't know.'
"So coach Crean texted me and we texted for awhile. And he was like, 'I want you to know that you have a scholarship offer from Indiana.'"
Indiana is hardly the only school coming hard at Black, ranked 36th in the 2014 class by ESPN.com. When asked what schools were recruiting him the hardest at this point, the 6-foot-8 Black said: "Indiana, Illinois, Florida, UCONN and Ohio State."
But Johnson and Crean seem to have made a strong impact on Black, who followed the Hoosiers closely last season and picked them to win the national championship on his bracket.
"I like the program, I like the way they play," Black said. "They've got good Christian values, I love that. I like the development they've got going over there, the development of Victor Oladipo and Cody Zeller. It makes you think you can go in there and get better too."
Black excels in the mid-range, an area he said he spends the majority of his time working on. He scored repeatedly on mid-range jump shots and turnarounds during the Top 100 Camp last week on his way to averaging 11.2 points per game.
"A lot of times now people don't really work on mid range they just wanna dunk or shoot 3s," Black said. "But mid-range game is very helpful, it's easy to score around there."
As far as what position he plans to play at the collegiate level, Black said he's versatile and can probably play at multiple spots.
"I can play the 4 and help teams stretch out the floor or I can play the 3 and take it from the wing or post up a smaller guy," he said.
The key for the Hoosiers will be getting Black on campus for an official or unofficial visit. When a reporter asked Black where he would take his official visits, he declined to answer, saying he hadn't yet decided.
But when Inside The Hall asked him later if he thought there was a good chance Indiana gets one of his officials, and he said: "Most likely, yeah."
(Note: You can watch close to three minutes of high quality scouting video of Black from Charlottesville in the premium forum.)
(Photo credit: Kelly Kline/Under Armour)
Filed to: LeRon Black