Freshman Focus: Noah Vonleh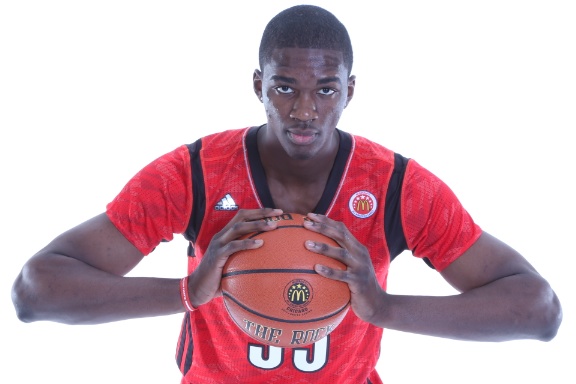 "Freshman Focus" is an Inside the Hall series on each of Indiana's six incoming freshman. Over the next couple of weeks, we will examine what kind of an impact each player can have for the Hoosiers next season. Today: Noah Vonleh.
Of Indiana's six incoming freshmen, Noah Vonleh figures to have the biggest role, responsibilities and impact right away.
Vonleh, the last of the 2013 recruits to commit, is the prize of the class. He's a 6-foot-9, 230-pound power forward with a 7-foot-4 wingspan and a skill set not common for someone his size and age. He'll turn 18 in late August.
Vonleh, ranked 13th in the 2013 class by ESPN.com, has an above average post-up game and also possesses the ability to go out on the perimeter and knock down a 3-pointer. Oh, and he averaged 11.8 rebounds per game as a senior at the New Hampton School (N.H.) and he plays defense, too.
"He fits the physical characteristics already to play at that level," said Vin Pastore, Vonleh's mentor and AAU coach for Mass Rivals. "He can rebound at any level, anywhere right now. He's going to be able to do that immediately at Indiana. If you look at his skill set, you'll see he's polished for a big guy. He handles the ball extremely well, he has great touch.
"Have you shaken his hand yet? Go shake his hand. It's as hard as a catcher's mitt. And usually when a kid's hands are like that, you don't have the touch. But he defies everything."
Vonleh is already on campus and began working out with some of his Indiana teammates on June 3. He's also currently taking summer school classes. Indiana coach Tom Crean has continually raved about Vonleh on his Twitter account ever since he arrived in Bloomington, marveling at his desire to get better and his commitment to stay in the gym.
Crean tweeted that he believes Vonleh will soon be a '365 day' guy for the Hoosiers and said he's a McDonald's All-American "with no entitlement issues".
"He's always in the gym," Pastore said. "I'm sure the Indiana coaches will be saying, 'He's back for more. A lot of kids, when they get to 16, other things take over in their life. Noah's 17 and still the gym would be his first love. I think you'll see Noah using most of his free time to get in the gym and try to get better."
Because of his unique talents and work ethic, there has been speculation that Vonleh could be a one-and-done guy in Bloomington, something that hasn't been done since Eric Gordon left as a lottery pick in 2008.
I asked Pastore, who has known and worked with Vonleh for the last six years, if he thought Vonleh would leave for the NBA after only one season.
"I don't know the answer to that question," Pastore said. "I don't know exactly what his plans are. I surely think he's talented enough that that's a possibility. But I also know he's the type of kid that wants to get things right. If they're not exactly right, I wouldn't be surprised if he does something different."
Filed to: Freshman Focus, Noah Vonleh