Dante Exum leaning toward Indiana, attending college in states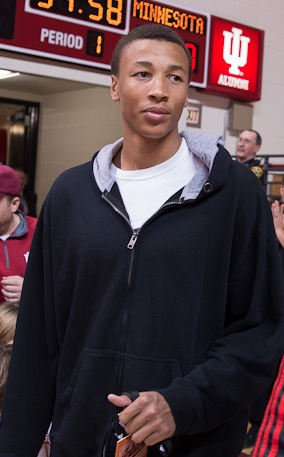 Class of 2014 guard Dante Exum, who took an official visit to Indiana in early January for the Minnesota game, told Scott Howard-Cooper of NBA.com at the adidas Eurocamp in Treviso, Italy that the Hoosiers are the favorite to sign him.
"Australian SG Dante Exum, a rising star, tells me Indiana U in the recruiting lead to sign him for 2014-15. His only visit so far," Howard-Cooper tweeted today.
Exum, who could be eligible for the 2014 NBA Draft, also told Cooper that he's planning to attend college.
"My gut tells me right now I'm going to college," Exum told Howard-Cooper.
Many draft experts had suggested in recent months that Exum, who plays at the Australian Institue of Sport in Canberra, could forego college altogether and enter the draft.
His performance at the Nike Hoop Summit in Portland in April fueled that speculation when he scored 16 points (6-of-8 FG, 3-of-5 FT) to go along with three rebounds, two assists, two steals and a block in a 112-98 win for the World Team over Team USA.
After his visit to Bloomington, Exum told Inside the Hall that he was very impressed by the IU program.
"The facilities are great and Assembly Hall on Saturday was on another level," Exum said. "I have never seen anything like it before and enjoyed it very much."
Exum is not playing in the adidas Eurocamp because of an injury, but is expected to play for Australia in the U19 World Championship in Prague that run from June 27 through July 7.
Filed to: Dante Exum