James Blackmon Jr. perfect from field as Indiana Juniors sweep Kentucky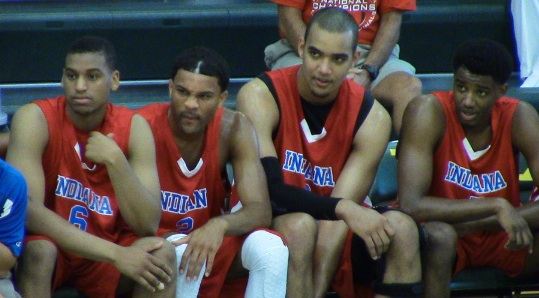 LOUISVILLE, Ky. — The Indiana Junior All-Stars needed overtime to fend off the Kentucky Junior All-Stars on Friday night at Greenfield-Central.
On Saturday night at St. Xavier High School, a more focused and sharp group showed up and easily dispatched of the Kentucky Juniors, 86-73.
Indiana commitment James Blackmon Jr. shot a perfect 5-of-5 from the field and finished with 13 points, bringing his total in the two-game series to 40 points, a team-high.
"Yesterday we didn't start out with intensity. We just came out kind of stiff," Blackmon Jr. said. "Today I thought we picked up our defense and that brought our offense along."
The Indiana Juniors shot 53 percent from the field and had five players besides Blackmon Jr. with eight or more points, including Tech's Trey Lyles (18 points), Plymouth's Mack Mercer (10 points), Park Tudor's Trevon Bluiett (8 points), Greensburg's Bryant McIntosh (8 points) and Guerin Catholic's Aaron Brennan (8 points).
The next test for the Juniors will be a pair of exhibitions against the Indiana All-Stars beginning on Monday at Sullivan.
The two teams will also square off Wednesday night at Tipton.
"I think we're going to have to play as a faster team and the guards are going to have to rebound a lot more," Blackmon Jr. said. "Stopping their guard play will be a big key trying to win against them."
The Indiana All-Stars have two nationally ranked players in the backcourt in Michigan signee Zak Irvin and Notre Dame signee Demetrius Jackson. While the Juniors are hungry to win the exhibitions, Blackmon Jr. said there's no real rivalry between the two groups.
"There's not really a rivalry. We know both teams can play," he said. "We're both going to compete to show who is better and who is not."
Filed to: James Blackmon Jr.