Freshman Focus: Luke Fischer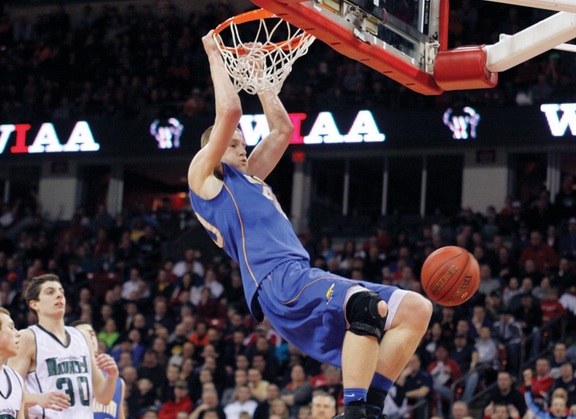 "Freshman Focus" is an Inside the Hall series on each of Indiana's six incoming freshman. Over the next couple of weeks, we will examine what kind of an impact each player can have for the Hoosiers next season. Today: Luke Fischer.
It's hard to dominate the high school game more than Luke Fischer and his Germantown teammates did in the state of Wisconsin over the last two years.
With Fischer leading the way, Germantown won 56 consecutive games and two straight state championships, winning the most recent one by a 57-28 margin.
Fischer, who will report to Bloomington later this month, scored 17 points in that game and averaged 21.3 points and 9.5 rebounds per game as a senior.
With Cody Zeller's departure for the NBA after last season, Fischer's arrival is even more important for Tom Crean and the Hoosiers. Fischer's stock has risen consistently since he signed with the Hoosiers, and his game continues to improve.
"Luke is coming in looking at everything as an opportunity," said Justin Litscher, Fischer's AAU coach with Wisconsin Swing. "He's gonna fill whatever role they need him to, if that's starting or if that's coming off the bench. I know he's excited. If he had the choice, I think he probably would have left right after state for Indiana."
It's certainly too early to know, but Fischer figures to be a strong candidate to replace Zeller as Indiana's starting center when the season begins. He's not as tall as Zeller was — he's listed at 6-foot-10 — but Litscher said Fischer's strength helps him to play bigger than that.
"Luke's really developed his lower half and his ability to just seal," Litscher said. "Once he seals, it's over, he's gonna score. His lower half is so strong, and people just look at him and say, 'He's gotta add strength.' But from the waist down, he's a strong kid. I mean very strong."
While there's no doubt Fischer would have gained a great deal from having Zeller to learn from when he arrived on campus, there are still things Fischer brings to the table that you can't teach. He's a proven winner, for one, and he possesses a work ethic that rivals some of the Indiana players responsible for building the culture that's currently in place.
"He's got to play for us," Crean said at Wednesday's Tailgate Tour event at Huber Farms. "We always recruited him in the sense that you're either going to play alongside Cody (Zeller) and back him up or you're going to be playing for him if he's gone. Here we are. So it's very, very important that he can come in and contribute right away.
"He can contribute in the post, he can shoot the ball 15, 17 to 18 feet. And the biggest thing that he's got to do is the biggest thing that Cody did. Cody got so much better defensively in a hurry. And that's exactly what Luke's gotta do."
Fischer isn't as flashy as some of the other guys in the Hoosiers' six-man recruiting class, but he has steadily improved each year, and that figures to continue when he arrives in Bloomington. Fischer is currently ranked 34th in the 2013 class by ESPN.com.
Litscher believes Fischer, Wisconsin's Mr. Basketball, will join Indiana's "365 day" group when he arrives on campus.
"One thing I've always said about Luke from the time I met the kid is he's a sponge," Litscher said. "There hasn't been a time that I've seen him that I haven't thought he got better than the last time I saw him. Literally, I saw him in Vegas as the end of our summer, thought he was better than he was the week before. And then I saw him at high school in the first week of the season, thought he was better than the last time I'd seen him. That's just kind of the way he is. He works to get better.
"He's really still developing, which is scary because I think he could be special."
(Photo credit: gmtoday.com)
Filed to: Freshman Focus, Luke Fischer