Draft watch: Is Oladipo headed to Orlando at No. 2?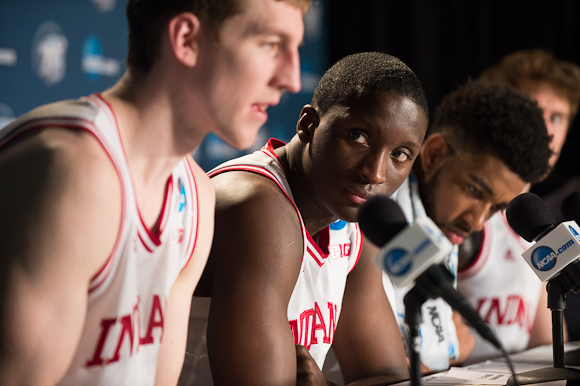 With individual and group workouts well underway and just over three weeks until the 2013 NBA Draft, it's time for an updated look at where Cody Zeller and Victor Oladipo are currently projected to be selected later this month.
In our latest update, we'll look at updated projections for both players and also share some updated expert analysis:
Victor Oladipo
ESPN: (2 to Orlando) Draft Express: (5 to Phoenix) NBADraft.net: (5 to Phoenix) SheridanHoops.com: (4 to Charlotte)
· Analysis: Oladipo was one of the stories of the combine as he confirmed what those of us who have watched him for the last three years know: He's a freak athlete. Combine that with his rapid improvement and enormous upside and it's not surprising that Oladipo, who worked out for the Magic last week, appears to be in the mix at No. 2 overall. Phoenix is also mentioned often for Oladipo and he'll work out for the Suns today. According to Tom Crean, the former IU guard will also work out for Cleveland and Charlotte. At this point, Oladipo seems like a lock to be picked in the top five, which is quite the meteoric rise for a guy who wasn't ranked in the top 100 coming out of high school.
· Expert opinion: "If you're talking about the guy who is going to come in and be the most effective player from day one, it's Oladipo. He's got that 'It' Factor," that it takes to be successful in the league. A lot of guys in this draft don't have that. There's no doubt he plays with an edge. Watching him play defense this season, I wouldn't have any hesitation putting him into an NBA game and letting him guard Derrick Rose, Dwyane Wade or Kobe Bryant from day one. I think he's that good defensively." – Will Perdue, former Chicago Bulls, San Antonio Spurs and Portland Trailblazers center and ESPN radio analyst.
Cody Zeller
ESPN: (11 to Philadelphia) Draft Express: (11 to Philadelphia) NBADraft.net: (7 to Sacramento) SheridanHoops.com: (11 to Philadelphia)
· Analysis: Zeller's combine performance opened some eyes, but his projections still haven't gone up much after he displayed his elite athleticism to NBA decision makers. Considering his efficiency and the fact that he was once considered to be in the mix to be the No. 1 pick, he would appear to be a good value at No. 11 for the 76ers, a team that is in desperate need of frontcourt help. If Philadelphia doesn't bite, Oklahoma City would also seem to be a great fit at No. 12. Fortunately for Zeller, mock drafts are simply projections and there's a fair chance that he could go much higher as he continues to impress in workouts and interviews leading up to the draft.
· Expert opinion: "He'll experience a gravitational pull toward the 3-point line. The more open style of play and tighter whistles will allow him more room to operate inside, where he is very sound and even a bit crafty (but those short arms scare me). As a shooter, though, he can impact the game and if he adds the 3-ball to his game he suddenly becomes a far more valuable player." – David Thorpe of ESPN Insider on how Zeller's game could change in the NBA.
Filed to: Cody Zeller, Victor Oladipo