Healthy Richardson putting up big numbers in EYBL play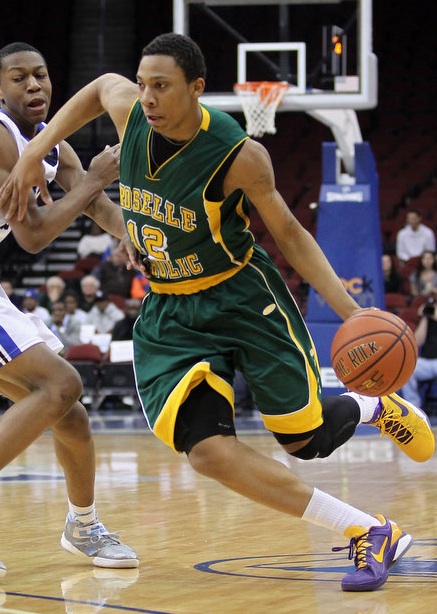 After missing the first two Nike Elite Youth Basketball League (EYBL) sessions with a fractured wrist, class of 2015 guard Malachi Richardson returned for the final two sessions and picked up right where he left off.
Wearing tape on his wrist, Richardson said he feels like himself again over the weekend at EYBL Minneapolis.
"It's just to keep it steady," he said of the tape on his surgically repaired wrist. "It's a mind thing for me, I don't want to fall on it again and mess anything up, but it's 100 percent now."
The time off was tough for Richardson, who was unable to shoot or participate in any basketball activity during the healing process.
"I was just able to run and try to stay in shape," Richardson said. "But being in basketball shape is totally different from just running around a track."
The time off hasn't hurt the rising junior's production on the floor in the highly competitive EYBL, where Richardson plays for Team Final. The Philadelphia-based program finished the weekend 4-1 in Minneapolis and earned a Peach Jam bid.
The 6-foot-6, 180-pound Richardson is averaging 15.0 points, 3.7 rebounds and 2.0 assists on 44.3 percent shooting in nine EYBL games.
His recruitment has continued to attract new suitors with Georgetown, Florida and North Carolina joining a list that already included Indiana, Kansas, Ohio State, Maryland, Miami (FL) and Syracuse.
The Hoosiers offered Richardson a scholarship in early December and watched him several times during the high school season, including a mid-January game at Roselle and also at the Flyin' to the Hoop in Dayton, Ohio.
Indiana's already heavy pursuit will likely pick up even more next month when the staff will be able to have unlimited phone and text message communication with class of 2015 prospects beginning on June 15.
"It's a great relationship. I speak to them every few weeks," he said. "Coach (Tom) Crean and Coach (Kenny) Johnson. We talk about getting onto the campus and just talking about life things. Just me trying to become cool with them."
Richardson said he will get on the IU campus this summer in August, when he plans to make an unofficial visit. He said Syracuse could also receive an August visit and possibly Miami (FL).
Although Richardson is a soft-spoken kid with a quiet personality, he said the prospect of playing in front of a loud and energetic crowd at the next level is important to him.
"That's what makes me go on the inside," he said. "That's my motivation sometimes."
J.B. Bauer contributed to this story.
Filed to: Malachi Richardson