Ahmed Hill's relationship with Indiana continues to grow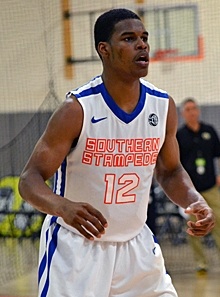 The list of suitors for class of 2014 guard Aquinas (Ga.) guard Ahmed Hill is impressive.
More than 15 schools have offered a scholarship to the 6-foot-5, 190-pound guard, including Indiana, Kansas, North Carolina State, Marquette, Miami (FL) and Tennessee. He's also picked up recent interest from Florida, Louisville and North Carolina.
The Hoosiers offered a scholarship over a year ago and have remained firmly in the picture for the four-star prospect, who is taking his time with the process.
At the fourth Nike Elite Youth Basketball League (EYBL) session in Minneapolis, Hill told Inside the Hall that his conversations with Tom Crean stretch beyond basketball.
"We talk about life a lot," he said. "About how (going to) Indiana would set me up (prepare) for life. About how the atmosphere is up there. How the people are, the fan base. About me coming up there and getting a feel for it."
Hill hasn't scheduled any visits, but said that Indiana will be on the list of places he'll see along with Florida and potentially North Carolina.
"I know I'm going to take a visit (to Indiana), but I don't have a timetable yet," he said.
As a junior at Aquinas, Hill averaged close to 30 points per game and was named the All-Area player of the year by The Augusta Chronicle. This spring and summer, he's playing with Southern Stampede, where he's averaging 12.6 points, 3.7 rebounds and 1.7 assists in EYBL play.
While distance had been rumored to be a significant factor in Hill's decision, he said that isn't the case.
"Nope, it's not a factor at all," Hill said. "Wherever I feel comfortable at, that's where I'll decide to go."
What will be a factor for Hill, who was born and raised in Georgia, is his relationship with the head coach of the school he chooses to attend. Hill hopes that relationship will extend beyond basketball.
"(I'd like to have) a father and son relationship," he said. "And for the atmosphere at my college to be great. Make sure we win – me and my teammates never like to lose. Just compete every night and have a great atmosphere that makes me feel as if I was home."
J.B. Bauer contributed to this story.
Filed to: Ahmed Hill