Four schools in steady contact with Phil Booth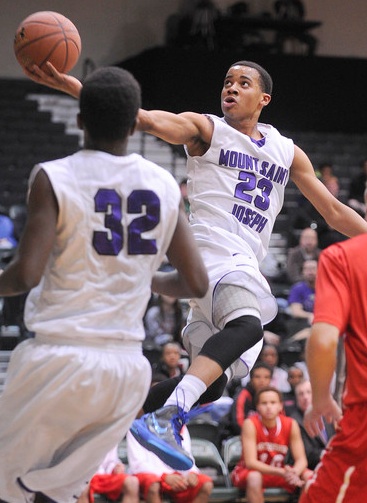 Class of 2014 Mount St. Joseph's (MD) guard Phil Booth is still planning to wait until the fall to pick a school, but it appears a few schools are beginning to separate themselves in his recruitment.
Booth, who is an integral part of unbeaten Team Takeover in the Nike Elite Youth Basketball League, updated his recruitment for Inside the Hall recently at the third EYBL session in Dallas.
"It's going pretty well," he said. "The newest one to come on is Memphis, but the steady ones have been Georgetown, Indiana, Maryland and Villanova."
Booth has visited each of the four schools he mentioned as being steady in his pursuit.
His trip to Indiana was an unofficial visit for the Hoosiers' 81-73 win over No. 1 Michigan on ESPN's College GameDay. The 6-foot-3, 170-pound guard said his communication with the IU staff has remained consistent.
"A few times a week. It's been pretty steady," Booth said. "They've been pretty close, especially (Kenny) Johnson. He calls and texts, so I have a pretty good relationship with both of them."
Through three EYBL sessions, Team Takeover is 13-0 and a lock for July's Peach Jam. They'll look to finish another session unbeaten this weekend in Minneapolis with games against Meanstreets, Texas Pro, Team Scan, Houston Hoops and Expressions Elite.
"We've been playing real good basketball and playing together," Booth said. "When we do that and listen to what the coach is saying, we play pretty well. So we're trying to keep the streak alive."
In EYBL play, Booth is averaging 10.6 points, 3.5 rebounds and 2.8 assists in 20.5 minutes per game. He's shooting 39.1 from the field, 45.5 percent on 3-pointers and 80.4 percent from the foul line.
"My strengths are probably shooting the ball and getting to the rim," he said. "I can probably improve on my ball handling and being more aggressive at times instead of being a little too laid back."
Having already taken visits to the primary schools involved in his recruitment, Booth said he's got a good feel for what he'll be looking for when he makes a decision this fall.
"A good program, a winning program," Booth said. "A place where I can earn some time when I get there as a freshman."
Chris O'Dell of Star Local News contributed to this report.
Filed to: Phil Booth