Pinson opts to stay close to home, play for UNC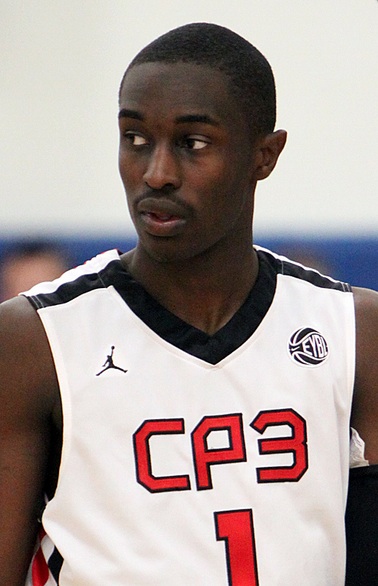 HIGH POINT, N.C. — Home — or closer to home — was where Theo Pinson's heart was.
It was the draw of playing closer to home that led Pinson, a 5-star recruit in the class of 2014 and top target of Indiana, to commit to play basketball at North Carolina on Wednesday.
Pinson, a 6-6, 190-pound wing, made the announcement in the gym at Wesleyan Christian Academy flanked by his parents, sister, and high school coach Keith Gatlin.
About 100 fellow students and school supporters were in attendance. Pinson said that making the announcement Wednesday was important since it was the last day of school for the students and he wanted them to be a part of it.
Seated at a small table, Pinson thanked God, all his coaches, teammates, and the "Red Sea" — the student cheering section at the school — and said he came to the decision because he thought his recruiting process was over.
He leaned down and to his left and placed a Carolina Blue hat on his head while saying "I'll be playing college basketball for the University of North Carolina."
The decision was met with loud cheers and applause from the faithful in attendance. Pinson, who had just wrapped up his final exam in French class before he went into the gym, said he made a call to Crean this morning to notify him of his decision.
"One of the toughest things I've ever done, really," Pinson said. "I was just hurt by talking to him, but I wanted to be big about it and call him with the news and not text him or something. That would be lame. I'm glad we had a good understanding about it and we will still have a good relationship. But it's hard to do that, as hard as they had worked during the recruiting process. I knew it was going to be a hard decision and that I was going to have to let someone down."
Gatlin said he wasn't aware where Pinson was headed until the announcement came, only that he knew one of his standout players was ready for the recruiting process to be over.
"He called me last week and told me 'Coach, I really need to talk to you. I think I'm ready,'" Gatlin said. "Then he told me what he had in mind as far as making the announcement. But yeah, I'm a little surprised it wasn't Indiana. But now that it's over, I think he'll be able to relax next season."
Jon Adams is one of Pinson's coaches on the CP3 All-Stars AAU team, and went so far Wednesday morning to say that he was "almost certain" Pinson was going to pick Indiana.
"I'm very surprised," Adams said. "I knew it was between Carolina and Indiana, and we really haven't talked about where he was going to go. I just knew which schools he was most interested in going, and it was between the two of them."
Pinson said he came to the conclusion last Thursday that North Carolina was his choice after a long conversation with Roy Williams. He called Williams on Tuesday to let him know he wanted to be a Tar Heel.
"I was still up and down about stuff all weekend, but felt at peace at the same time," Pinson said. "It just came down to me wanting to stay closer to home. Being able to have my parents and my peers come see me play was the deciding factor, really."
Pinson, who grew up as a Duke fan, said the Blue Devils were still in on the recruiting process, too. But, his decision came down to two schools — Indiana and North Carolina.
"I wanted to do what was best for me, and being a Duke fan was never a factor in the recruiting process," Pinson said. "All of them are great programs with plenty of tradition. I just felt like Carolina was the right fit. Coach Crean and his staff did a heck of job recruiting me and working on getting me to Indiana. I respect the heck out of Indiana and wish them well."
Marc Pruitt is a sports journalist for The Winston Salem Journal.
Filed to: Theo Pinson